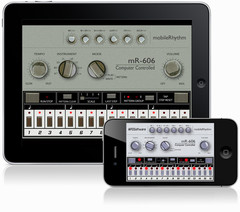 MPD Software has released the mobileRhythm mR-606, a music app for iPhone, iPad and iPod touch, inspired by the look and sound of classic 1980's drum machines.
The mR-606 drum machine is reminiscent of the classic 1980's beatboxes that heavily influenced both the Detroit and Chicago house music scenes – the forebears of modern dance and techno music. These classic boxes were re-discovered by the rave and acid music collectives of the '90's in the UK and in Europe, and have been popular ever since.

Now hard to find in their original hardware form, the mobileRhythm mR-606 is destined to be popular with anyone who enjoys a bit of nostalgia in their music-making.
mobileRhythm mR-606 is now available in 3 versions: iPad, iPhone and Universal, for use on any iOS device. It is priced at $5.99 USD / £3.49 GBP.
More information: mobileRhythm