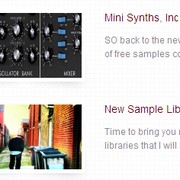 mrthebigman has announced the release of Mini Synths and Incidental FX, two free sample packs.
SO back to the new year we go with the first set of free samples coming out of my work as mrthebigman.

I have two seperate packs for you, each different to the other but both created specifically to help me within the creative and production processes of my new music.
New Mrthebigman sample packs
Mini Synths — 20 separate synth sounds sampled at c2 – created with the Jupiter 8 synth and then effected through Guitar Rig.
Incidental FX — 100 impact, explosion and riser/downer sounds for use in creating transitions. All were create using a multitude of drum sounds and vocal sounds and the effects were done with Guitar Rig.
Both packs are available to download via Pay by Tweet.
Visit mrthebigman for more information.