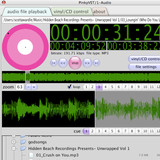 Ms Pinky has released version 2.0 of Pinky VST, a plug-in which allows users of VST-compatible host programs running under both OSX and Windows to seamlessly integrate Ms Pinky's vinyl-controlled audio file playback and scratching into music production software sessions.
Ms Pinky's VST plugin now features the ability to set and store up to 16 loop and cue points for each audio file that is played.

Also included in this version is an improved zoomable waveform display.
Pinky VST (does not require Pluggo) is included in the IWS Software package, priced at $60 USD. This package includes Maxi-Patch for Windows and OSX, Binky Toy for OSX, Pinky VST (OSX and Windows), Max-For-Live patches, and the CDJ control signals (vinyl NOT included).
More information: Ms Pinky