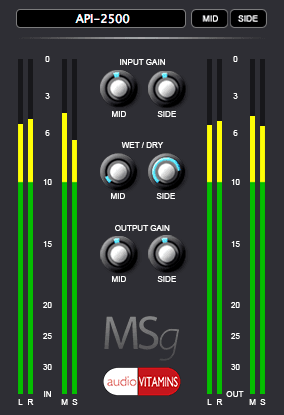 Audio Vitamins has released MSg, a Mid/Side processing host plugin for Windows and Mac.
Taking inspiration from the legendary Fairchild 670's ability to process in Mid-Side mode, the MSg plugin allows you to take any plugin and process them in a Mid-Side configuration.

Now you can have an 1176 operate in Mid-Side mode on your drum bus or an Neve 1073 EQ on your keys or guitars and use those famous curves to give a boost to the high-mids and make them stand out, whilst using that same sound to give the centre channel a bit more space for the vocal, without having to load an additional less musical, often quite surgical plugin afterwards to try and achieve the desired results.

Mid-Side processing has long been the secret of top mix and mastering engineers and now it's advantages are available to everyone and in a more powerful way than ever thought of before.
MSg features
Independent input and output gain on mid and side channels.
Wet/Dry control on mid and side channels.
Internal delay compensation engine.
Low CPU and memory usage.
Recallable setups as presets, including 3rd party plugin parameter settings.
Ability to load AU and VST plugins into Pro Tools 10,11 and 12.
MSg for Windows and Mac (VST/AU/AAX) is available for purchase for 40 EUR/$45 USD/£30 GBP. Note: AAX is available on Mac only; Windows version is coming soon.
More information: Audio Vitamins