MSXII Sound Design has released Snares & Hats, a new combo kit sample library.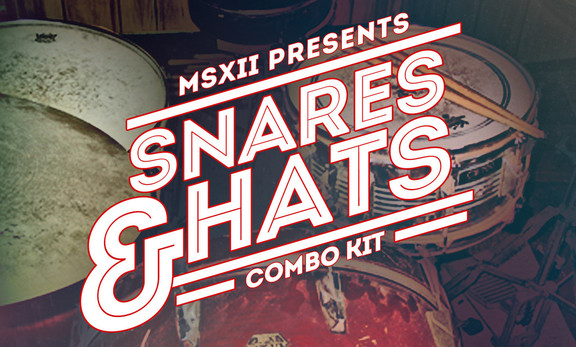 This kit represents everything you love in quality production; dirty hats and crunchy snares. Make no qualms about it, this kit will partner well with your current MSXII library.

Multiple loop ideas have been included to spark immediate inspiration and ideas. We've used some of the most dirty hats we can find (16″ Vintage Zildjian Hats) to get a great sound.

Recorded through studio grade preamps and processed carefully, The Snares and Hats Combo Kit will sit nicely in both your mix and arsenal.
Snares & Hats features
60 drum loops of live snares + hi-hats in 16bit .wav format.
Vintage saturation/coloring via products by API.
Hi Hats used include: Zildjian 12″ Special Recording Hats, Zildjian 16″ Vintage Hats (40/50s), Dream 14″ Re-FX Jingle.
Snare Drums used include: Pork Pie Percussion 6×14 Clear Acrylic Pig Lite, Pork Pie Percussion 7×13 Brass Patina, Pork, Pie Percussion 5×13 Maple, Pork Pie Percussion 6×10 Maple Soprano, Ludwig 5×14 Acrolite Black Galaxy, Noble & Cooley 4.75×14 Aluminum Alloy Classic, Pearl 3×13 Brass Piccolo, Pearl 8×14 Vinnie Paul Signature (Maple), Tama 5.5×14 Starclassic Birch, Custom SoCal 5.5×14 Maple (Built by Matt Slack).
Additional chopped one-shot hits provided as bonus.
The pack is available from the Drum Broker for $24.99 USD.
More information: The Drum Broker