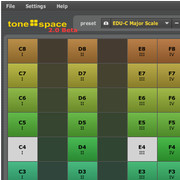 Mucoder has released version 2.0 of Tonespace, a different, more intuitive music keyboard, combined with a chorder.
By popular demand, tonespace 2.0 now includes Mac and Linux versions. Yes, you read that right! And since this required a complete rewrite from the ground up, I have taken advantage of this to clean up some stuff and also add some juicy new features. (I hope you will agree!)
Changes in Tonespace v2.0
Cross-platform support: Win32 (VST, standalone), MacOSX (VST, AU, standalone), Linux (native VST, standalone).
No host required: Standalone executable version for all platforms.
Generates its own sound. Integrated synth with PADSynth sound.
Quick start: Demo with built-in midi tracks.
Extra chord assist modes: play chord unrestricted (anywhere in grid), play restricted (chord root note must fit scale/key cell) or play filtered (chord notes not in scale/key are filtered out).
Better control over mouse cell triggering: retrigger notes when dragging across cell border, hold notes when dragging (use this with midi input) or hold notes until next click.
Hypercyclic and tonespace now share the same underlying modular engine.
Tonespace 2.0 beta is available to download at no cost.