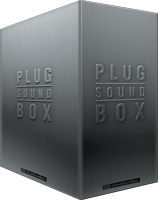 Muse Research has announced that its Receptor 2 hardware plug-in player will now ship with the USB Plugsound Box collection by Univer Sons / Ultimate Sound Bank.
The Plugsound BOX collection features 6 superb virtual instruments covering a wide range of sounds and styles, including fretted instruments, keyboards, synthesizers, General MIDI instruments, drums and percussion, and Hip Hop sound sets. The collection, which originally sold for hundreds of dollars, is now FREE with each standard RECEPTOR 2 PRO & RECEPTOR 2 PRO MAX.
USB Plugsound Box features
Plugsound Vol.1 : Keyboard Collection — features acoustic pianos in several styles as well as less-traditional honky tonk and modified versions. Features a large assortment of electric pianos as well as electric organs, tone wheel organs, clavinets, and electric grand sounds that provide a rich and expressive set of instruments to work with.
Plugsound Vol.2 : Fretted Instruments Collection — One of USB's best-known sound sets featuring a comprehensive collection of acoustic and electric guitar samples. Covering a wide range of guitars and styles from classical to electric guitars, you'll be hard pressed to know that these instruments were played on a keyboard given their realism and expressivity.
Plugsound Vol.3 : Drums and Percussion Collection — The Drums and Percussion collection has over 6,000 drum sounds sorted into various kits. Remarkably dynamic drum kits of all styles are represented as well as a diverse range of percussion instruments. The electronic drum collection is nothing short of amazing, capturing rare electronic drum kits of the past and providing them in a ready-to-use form.
Plugsound Vol.4 : Hip Hop and R 'n' B Collection — This collection features various loops, kits and multi-sampled instruments. The drum loops and instrument phrases are all sorted by tempo, letting you trigger in tempo and quickly create beats. Suitable for a wide range of musical styles, this collection provides fresh sounds in an incredibly easy to use form.
Plugsound Vol.5 : Synth Collection — This comprehensive collection of both modern and classic synthesizers provides you with an incredibly wide range of pads and leads to use either by themselves or layered into remarkably complex textures. The collection also contains various stacks, flute-style leads, voices, tines & bells, basses, pads, sweeps, and more.
Plugsound Vol.6 : Global Collection / GM — This collection is designed to serve as an ultimate General MIDI (GM) module, with instrument categories such as world, orchestral, basses, guitars, keyboards, drums and percussion all organized in standard GM layouts.
Visit Muse Research for more information.