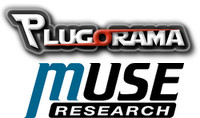 Muse Research & Development has announced a major overhaul of their Plugorama website which supports their RECEPTOR 2 line of dedicated hardware plug-in players.
Plugorama.com is a resource for both pre and post-sales assistance with RECEPTOR 2, providing registration, upgrades, software package options, and technical support all in one convenient location. The company has spent several months redesigning the site to provide a much-improved customer experience, regardless of your purpose for visiting the site. The company is also announcing new software bundles at low prices, new premium support packages for customers, and lower prices across-the-board for people looking to purchase a RECEPTOR 2.

One of the most significant changes to the Plugorama website are new prices for the entire RECEPTOR 2 product line. Effective immediately, the RECEPTOR 2 will sell for $1599, the RECEPTOR 2 PRO will sell for $1999 and the RECEPTOR 2 PRO MAX will sell for $2499. Prices are in US Dollars and are only available to residents of the US and Canada. These same new lower prices are available through Muse Research Dealers throughout North America.
More information: Muse Research