Musical Entropy has revealed an easter egg in Guitar Gadgets, a free effect plug-in for Windows and Mac featuring a compilation of "false" analog guitar pedal simulations, made to be used mainly with electric guitars and guitar amp simulations, but which may be sound interesting in any situation.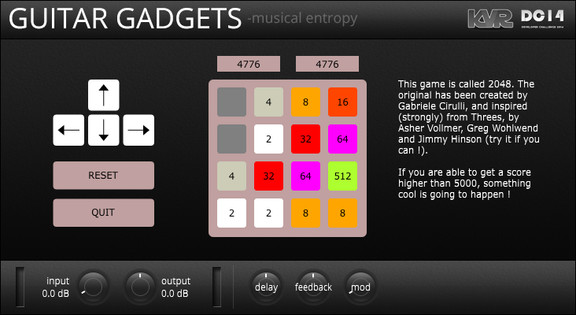 I'm going to talk about the easter egg in Guitar Gadgets. If you still don't know how to make it appear, here is the trick : in the "about" tab (one click on the title), click 2 times on "-musicalentropy" (not a double click !), 2 times on "KVR", 2 times again on "-musicalentropy", and finally 2 times on "KVR". This way, you are going to make a little game appear :

The game is called 2048. The original is a hit on smartphones nowadays, and has been created by a teenager called Gabriele Cirulli in one week end ! The game objective is to get a score as high as possible by moving all the pieces at once in one direction. When two pieces with the same number are pushed one on the other, they fuse with a doubled number, which is added to the current score. If you can make a piece with the number 2048 appear, you may consider that you have won the game, but you can still improve your high score.
Guitar Gadgets for Windows and Mac (VST/AU) is a free download.
More information: Musical Entropy / Guitar Gadgets