MusicLab has released version 4.0 of RealStrat, a sample-based virtual Fender Stratocaster guitar instrument for Windows and Mac.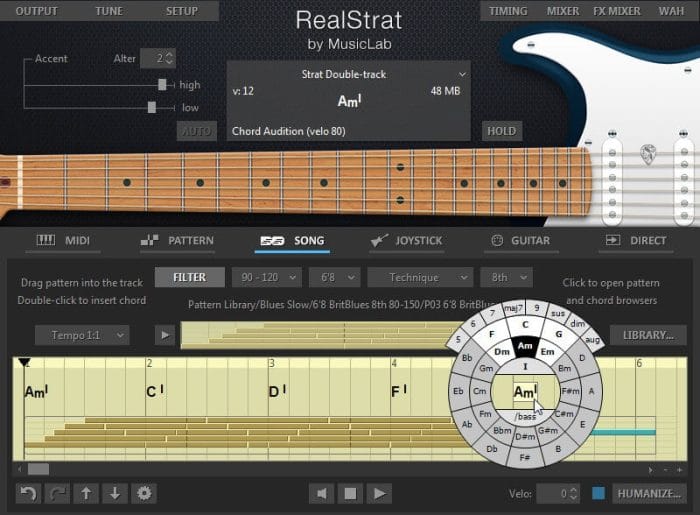 RealStrat provides incredible playability based on the unique performance modes and easy-to-use keyboard layout as well as the advanced key/pedal/velocity switch system allowing a keyboardist to perform guitar parts with a whole new level of realistic expression. RealStrat covers practically all sounds, articulations, and techniques a professional guitarist can produce on his Strat, including mute, bridge mute, harmonics, pinch harmonics, slap, unison bend, strumming, picking, chord chopping, scrapes, etc…

High quality dry samples recorded directly from Stratocaster pick-ups let you easily create any desired guitar sound using your favourite amplifier simulator.
Changes in RealStrat 4.0
New Song mode, a perfect songwriting tool, letting you insert chord changes and patterns for the song directly into the built-in Song Track.
Smart Chord Selector, allowing to instantly insert chords into the Song Track.
Powerful Style Filter, letting you automatically find suitable patterns in Pattern Library by musical criteria: tempo range, meter, playing technique, and rhythm feel.
Export MIDI file from Song mode.
Humanize engine with 9 parameters.
MIDI output mode for Pro Tools/AAX.
Double Tracking configuration and patch letting you easily simulate 'double-tracked' guitar part with the single MIDI input (to use this feature you must run RealStrat multi output version, ReaStrat (2 mono) or RealStrat (2 stereo) plugin, depending on mono or stereo amps/FXs you are going to use. These plugins provide 2 outs in your DAW's mixer. In a DAW's mixer pan each output being used, then add the amps/FXs of your choice on each channel).
Harmonics/Pinch Harmonics on black Add-on keys added in Bass&Pick mode.
Slow Strum time slider added in Timing panel.
FretNoise automatic for repetitive notes improved.
FretNoise (trigger) FX.
Transpose, Transpose(toggle) FXs.
Unison/Octave selection added for Harmonics FX.
Strum Time range increased to 200 ms.
PitchBender Down->Slide range automation.
RealStrat for Windows and Mac (VST/AU/AAX) is available for purchase for $199 USD. Previous version owners of RealStrat can upgrade from their MusicLab account for $49 USD.