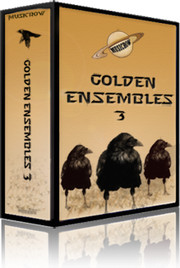 Musicrow has updated its Golden Ensembles for Reaktor to version 3.09, which now includes the new SuperPan panning effect.
SuperPan is a special panning effect that enables users to place sounds out of the speakers. Based on sophisticated psychoacoustic methods, SuperPan can be used for the creation of unnaturally wide mixes, for special 'pop out' effects, and for adding unusual motion effects within regular and distorted spaces. Many surprising pre-made 'spacey' presets are included.
SuperPan features
Pan out of the speakers.
Create super wide stereo mixes.
Extreme 3D effects.
Add unusual motion.
Modulators: Two Sequencers and an LFO.
Many surprising 'spacey' presets.
SuperPan is available as part of Golden Ensembles 3 that now contains 45 ensembles, synthesizers and effects for NI Reaktor 5. The update is available for free for Golden Ensembles 3 users.
Musicrow has also announced a limited time Xmas Sale.
Don't miss our special Xmas prices! Golden Ensembles for NI Reaktor, Analog Sound Collection for Arturia synths and our VSTi are 40% OFF until Dec 31, 2012
More information: Musicrow