MuTools has announced the release of MuLab 7.1, an update to the music production software for Windows and Mac.
The update features an essential rewrite of the Apple Mac OS specific code, completely dropping the legacy Mac Carbon 32 bit sub-system, purely using Cocoa 64 bit now, ready to continue rocking the Mac now and in the future.
Besides this vital update of MuLab for Mac, MuLab 7.1 also features many other improvements for all versions.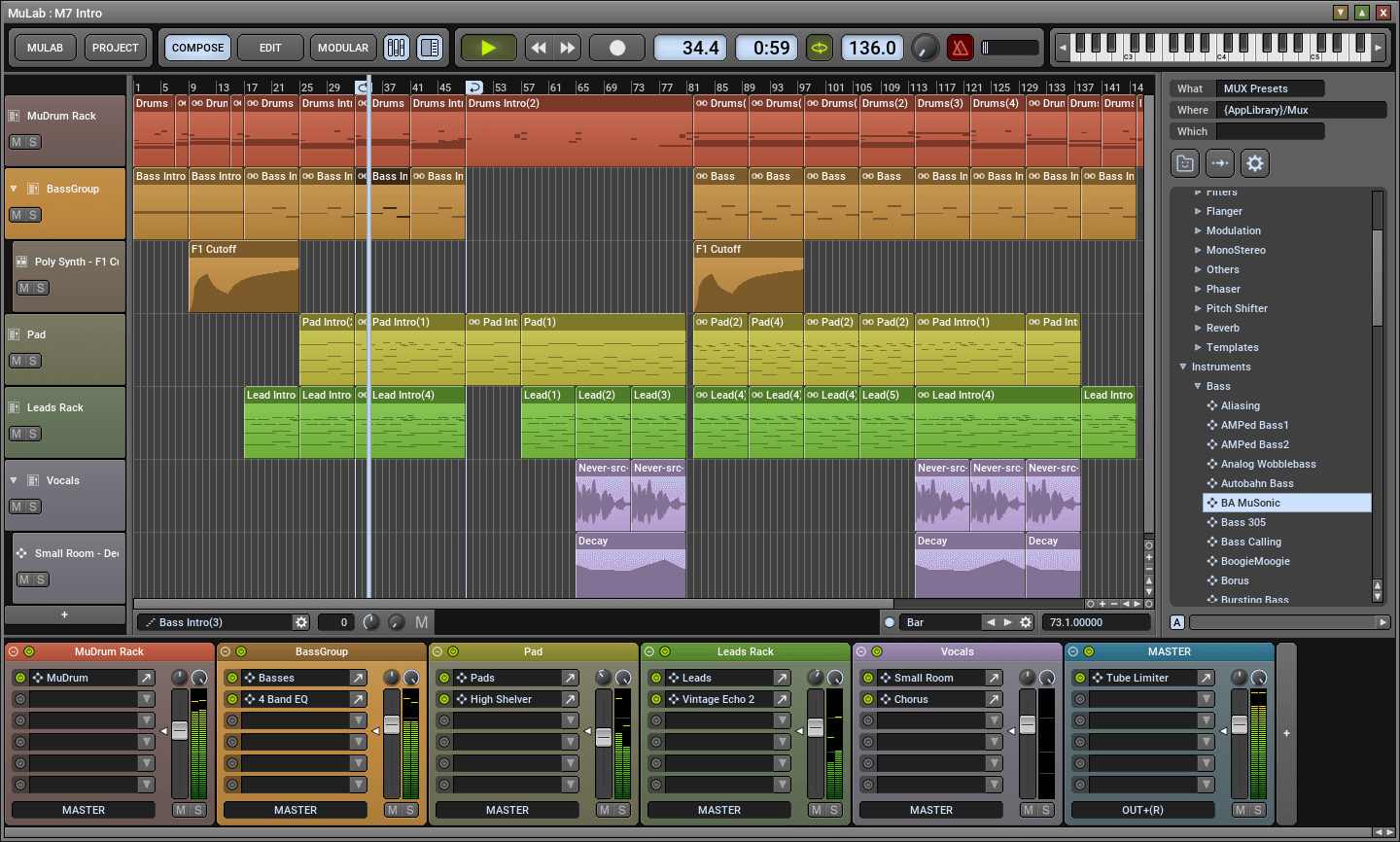 MuLab is an inspiring music studio for Mac OSX and Windows featuring an integrated top-quality modular synth and effect engine.

MuLab is an easy and rock-solid tool designed to create, record, edit and finalize your music!
Changes in MuLab 7.1
Multi-Form Oscillator: Improved and extended "Insert Multiple Sample Grains" function. For example you can now also make wavetables using sample grains that step by step grow in harmonic content eg. keep the grain start fixed but advance the grain end. Also the rendering quality has been further improved.
Improved and extended options when opening a project/preset with unfound audio files including an automatic "Search All" option.
Sequence editor: Playing the piano keyboard at the left-side can be recorded now, just like the piano keyboard at the top of the project window.
Sequence editor: Right-click keyboard -> extra option to directly edit the key name (if the respective target module supports key names)
Edit note key names: The key field now has previous/next buttons for more editing comfort.
When adding a sub-track, that sub-track now defaults to using the parent track's MIDI channel.
When you record a new sequence part, the new sequence name now defaults to the track name. (previously it was "Recorded Sequence")
Added auto-conversion of M6 style audio recorder tracks to M7 style audio recorder tracks.
Added an explicit function to switch the keyboard focus to the very VST plugin's editor for in case the VST's own editor does not do that.
Drag-dropping an FXB/FXP file on the top control bar of the VST editor loads that FXB/FXP into the VST.
When scanning VST plug-ins it is made sure that all relevant scan messages are logged for in case you want to analyze a VST scan issue.
Improved factory library.
Added extra protection against entering invalid parameter values.
MFO Sample Grains: Added protection against too long grains which could lead to crashes.
Fixed a potential crash bug when changing the loop length of a sequence on 64 bit systems.
Fixed a bug in the Key Names sub-system that could make key name setups to be multi-channel by default.
In some cases the popup edit field width for inputting small numeric values was not wide enough. Fixed.
Recording rack mutes didn't work anymore. Fixed.
Fixed a potential rounding issue in sound modulation sub-system which could lead to sonic artifacts and in exceptional cases even to crashes.
This fix which now uses higher resolution variables also further raises the overall quality of the whole MUX Modular sound system.
Added support/protection for VSTs that don't properly report the name of parameters. (it's invalid behavior, but it happens)
On some slower systems or on high system load, very short clicks on push buttons and scrollbars could be ignored. Fixed.
When drawing a new part on an empty track, the part type selector popup did not go away by clicking aside it. Fixed.
Fixed a sonic bug in the Modulation Mapper in case no source input was connected, but there was audio-rate modulation input for its Amplitude or Offset parameters.
Text string editors: In some cases the cursor was not visible. Fixed.
And more little improvements.
MuLab is available for purchase for 69 EUR.
More information: MuTools