MuTools has released version 6 of its MuLab music production studio for Windows and Mac.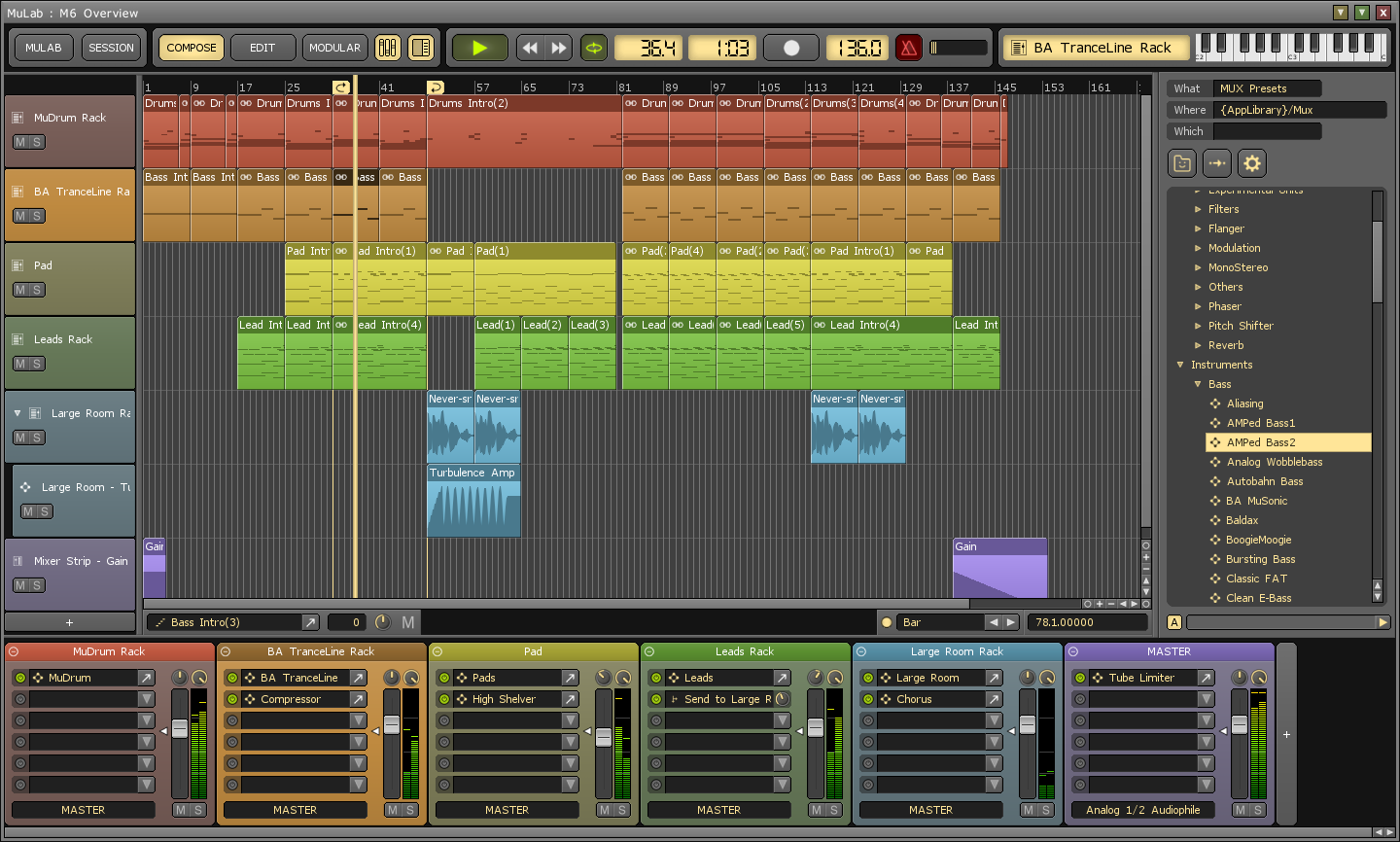 MuLab 6.0 features an enhanced look and feel and a rich collection of new and improved features throughout the app that all together seriously increase the creativity, comfort and productivity of MuLab.
Changes in MuLab v6.0
Session

Docked part editors that auto-follow the focused track.
Direct buttons for showing/hiding the browser, mixing desk and session modular area.
New "Export Consolidated Session" function for making a complete session folder for export to another system.
New "Export Tracks As Audio Files" function which exports each main track as a separate audio file.
All rendering-to-audio functions can now be interrupted by pressing ESC.

Composer

Audio parts now give you full control over the fade-in and fade-out curves and show these curves on the audio data.
Audio parts: When changing the gain or stereo pan in the part property panel, this is applied to all selected audio parts.
Sequence parts: When changing the transpose or velocity in the part property panel, this is applied to all selected sequence parts.
New "Add New MuSampla Track" function.
New "Insert Time Slice" and "Delete Time Slice" functions.
New "Select Similar Sequence Parts" function.
New "Increase Tempo", "Decrease Tempo", "Half Tempo" and "Double Tempo" shortcut functions.

Part Editors

Sequence editor now has two tools: The standard arrow tool (cfr M5) and the pencil tool which makes it easier to quickly insert and delete notes with a single click.
Sequence editor now has an event property panel for quickly changing the (selected) event values in an alternative way. With optimized undo/redo support so to avoid redundant undo/redo steps!
New "Transpose -1", "Transpose +1", "Transpose -12", "Transpose +12" sequence shortcut functions.
Envelope editor now has an envelope point property panel, similar to the event property panel in the sequence editor.
Audio-, sequence- and automation editors now much more clearly indicate the active/inactive region.
Improved Event List Editor: Better layout + events that are outside the actual play region are grayed.
Event Graph Editor: Support for individual note keys, which is handy to select the velocities of a certain key.

MUX Modular

New MuSampla version 2.
Improved MuDrum:

Improved mix-racks.
MuDrum sampler plug-in slots now also have an explicit On/Off button.
MuDrum: Pad editor is switched also when playing the pads.

MultiSampla now has 4 stereo outputs so you can route specific zones to a separate output.
Modular Feedback Delay now has a "Invert Feedback" switch.
Rack slots and module buttons now include a process on/off switch.
Multi-sample editor: Zone editor now integrated as a docked sub-editor.
Added support for note key names e.g. for when a target module defines C3 as "Kick", D3 as "Snare" etc.
All embedded sample displays (e.g. in MuSampla and in the multi-sample zones) are fully functional now.
New "Focus Previous Rack" and "Focus Next Rack" shortcut functions. These functions make it possible to also use MuLab as a stage rack with a bunch of preset racks that can be selected via MIDI.

Misc

Improved curve editing: Curve edit fields (e.g. in the Audio Balancers) now support direct editing i.e. (alt+) drag up/down to change the curve without having to open the curve editor. Opening the curve editor is done via double-click. Plus other detailed improvements wrt curve editing.
Improved and extended browser functionality.
Added support for saving/reloading the sample markers near the source sample file.
Optimized audio engine which should result in less drop-outs when high CPU load on certain systems.
Many more preferences so to tune MuLab to your flavor.
Improved look and feel.
Improved factory library.
Many more improvements which all together make a big difference.
MuLab 6 UL is available for purchase for 69 EUR. The upgrade from MuLab 5 UL is 17 EUR, and MuLab XT users can upgrade for 45 EUR until August 31st (regular 59 EUR). MuLab Free can be downloaded from the MuTools website.
More information: MuTools