Mutools has released MuLab 7.2, an update to the music production software for Windows and Mac, featuring a new Grain Player module and many more improvements.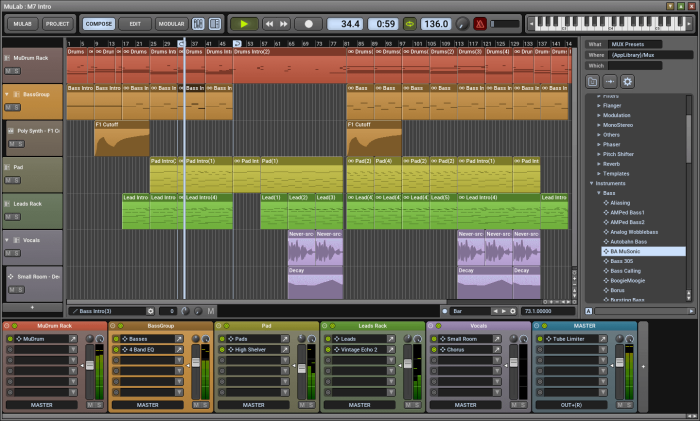 MuLab is an inspiring music studio for Mac OSX and Windows featuring an integrated top-quality modular synth and effect engine.

MuLab is an easy and rock-solid tool designed to create, record, edit and finalize your music!
Changes in MuLab 7.2
New Grain Player module.
New Sample DSP function "Normalize Dynamic". This function can dynamically boost the audio level of samples. For example applied on drum samples this can give powerful sounds.
Improved transient detection algorithm.
MuSampla and MuDrum: Sample display shows the current play position.
Sample Player and Grain Player modules: Sample display shows the current play position.
Multi-Point Envelope: Editor now also shows a play cursor.
Project Browser: When using the Which field to make a search, now the result list is auto unfolded so that you can immediately see all found items.
Right-click on the Rack Desk and Browser buttons at the top of the project editor now allow to toggle between docked and windowed modes.
Faster loading of MUX synth presets.
Faster rendering of Multi-Form Oscillator waveforms.
Added protection against moving windows above the top of the screen so to avoid an unaccessible title bar.
Finetuned default preferences for the play position cursor: Smaller size, different color.
Text input: Typing characters could trigger shortcut functions for these characters, which is not intended in this case of course. Fixed.
Fixed a possible issue with the LFO -> Set Sine function.
When opening projects/presets using samples that have changed in length meanwhile, now any updated markers are reported for your info.
Project -> Revert didn't report possible info messages. Fixed.
Windows: When the left-right mouse buttons are swapped, dragging didn't properly work anymore. Fixed.
MacOS: Fixed a potential crash bug when searching for files, eg. in the project browser.
MuLab 7.2 is now available for download. A license of MuLab is available for purchase for 69 EUR.
More information: Mutools