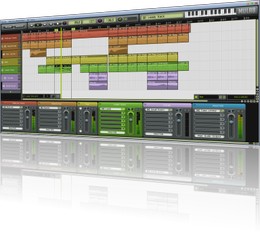 MuTools has updated its MuLab sound and music production system and MUX VST high-quality and super flexible modular synth and effect plug-in to version 5.1.5.
Changes in MuLab / MUX v5.1.5
Improved audio level compressor.
Extended support for different types of WAVE files.
Mixdown start-end is only set automatically on first time, after that it's purely defined by the user.
Composer and Sequence Editor: Zoom Selection, Copy Time Zoom and Paste Time Zoom are now shortcuttable functions.
Rack naming: If loaded from a preset, the preset name has more priority than the first plug-in name.
New preset file function: "Unlink From Preset".
Improved VST engine especially wrt VSTs that rely on timing info from the host.
Improved support for rack desk shortcuts when the rack desk is docked.
Added a bypass for a load problem in ToonTrack EZ Drummer.
Fixed a recent bug that could cause audio noises.
MUX VST now properly reports the effective host samplerate to VST plugins.
Fixed a little bug in the VST engine which could cause improper syncing between host and plug-in. (eg Kirnu Cream).
"Select Composition" function: When used via a shortcut, the popup list was displayed in the bottom-right corner. Fixed.
Audio File -> Create New Sample From Selection did not update the samplerate of the new sample. Fixed.
Fixed a little issue wrt the session editor window size when loading sessions that were saved with another editor window size.
Fixed an initialization bug that could have various consequences. One known consequence was that eg the Shortcut Map context functions were not listed in the shortcut target function list.
Extended log info for better diagnosing certain problems.
MuLab 5 is available to purchase staring at 29 EUR, MUX 5 UL costs 49 EUR.
More information: MuTools