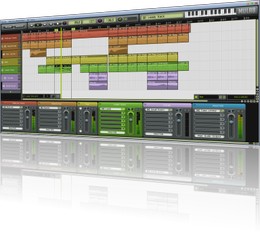 MuTools has updated its MuLab and MUX VST to version 5.1.
MuLab is a top-quality sound and music production system for Mac OSX and Windows, transforming your computer into an inspiring modular studio. The MUX is the modular sound heart of MuLab. With the MUX Vst plug-in its fantastic sound and great flexibility is also available for use in other DAWs.
Changes in MuLab / MUX 5.1
New sequence part function: Trim To Played.
Improved Audio Compressor module.
Audio level meters now show the current max level in a tool tip.
Audio level meters now have independent fall times for the maximum level indicator.
Composer: When splitting unique parts, the split part is also unique.
Fixed a rare crash bug when inserting a new module in a rack or MUX deep editor.
Fixed a bug wrt MIDI event processing for system MIDI messages like Active Sense etc.
Fixed an issue wrt music time calculations, for example visual in looped sequence parts that were not drawn as looped.
OSX: Fixed a MIDI input bug which could lead to missed notes or hanging notes etc.
(MUX VST) Added a "Edit VST Initial Delay" function, available in the deep editor options menu.
(MUX VST)Browser: Doesn't show the redundant "Switch To Docked Mode" anymore.
MuLab 5 is available to purchase staring at 29 EUR; MUX 5 UL is 49 EUR.
More information: MuTools