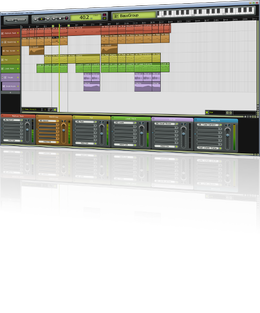 MuTools has updated its MuLab music software to version 4.2.2.
MuLab is a top-quality sound and music production system for Mac OSX and Windows, transforming your computer into an inspiring modular studio.

MuLab is an easy, effective and rock-solid tool designed to create, record, and finalize Your Music!
Changes in MuLab v4.2.2
New

New Parameter Event Generator module.
New MIDI Controller Generator module.
Dropping a sample on a multi-sample player adds a new full range zone for that sample.
MUX Play Editor: Module buttons can get a fixed color, fixed to the PE layout, independent from the module color itself.

Tuned

Waveforms => Rotate function: Input value is expressed in degrees instead of samples.
Envelope parts are also user renamable.
Finetuned the default output for new racks.
"Basic Effect" preset now includes a simple gain parameter in its Play Editor.
Increased flexibility when reading unconventional MIDI files.
Finetuned skin.
Internal optimizations.

Fixed

Fixed a possible crash bug when inserting new instrument tracks etc. while the music is playing.
Fixed: When deleting a rack the [+] rack button in the rack desk stayed at its old position.
In certain situations, Import Audio File, Import Sample Loop and Import Sample Sound could use an inappropriate rack.
Move-drag a module from a preset device into a deep editor not possible anymore. Copy-drag still works though.
MuLab is available to purchase for 25 EUR (XT)/75 EUR (UL). A free version with limited features is also available to download.
More information: MuTools