Mystery Islands Music has launched a preorder offer for its upcoming Editor & Librarian plugin for the Waldorf Q, Q+ and microQ hardware synthesizers by Waldorf.
This new plug-in is called Waldorf qXr AudioUnit & VST Editor / Librarian for Waldorf Q, Q+ and microQ. It can manage all 16 parts, multi settings and global settings from within one plug-in view. Manage patches; import MIDI files, SysEx files and even Waldorf Blofeld patch banks into the plug-in and load them as you go! Waldorf Blofeld banks will not sound the same as they do on Blofeld, since Q-series has completely different engine and oscillators (on wavetable side). But they are almost the same, so why not have this feature and modify your blofeld presets to suit the Q-sound.

Users are able to store banks from Q-series to HDD and then send them to the synth from the librarian, on the part you want. More details on the product page and the link is down below. While we are announcing these news, the plug-in is already working in Logic Pro, Cubase Pro, Studio One, and all other major DAWs, but the downloads are not yet available. We want to finish our product first to deliver A-class plug-in, again!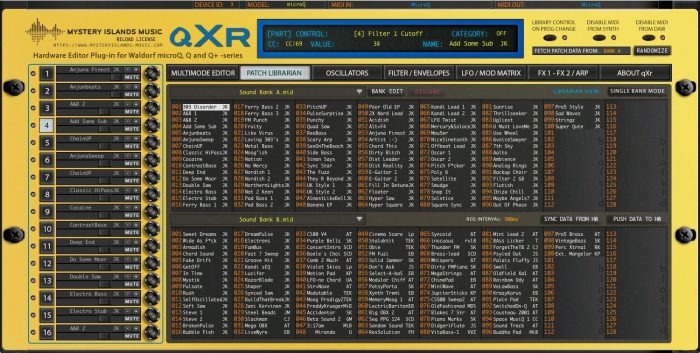 Waldorf qXr AudioUnit & VST Librarian Editor Plug-in features
Control Waldorf microQ / Q synthesizer directly from your DAW.
Automate almost every parameter directly from your DAW.
No need to remember CC's for each knobs / per synthesizer. Goodbye sticky notes!
Load, Edit and Store patches into hardware memory or in your HDD personal library.
Store any Waldorf microQ / Q / Blofeld compatible soundset in your HDD library folder and browse it from our plugin.
Send banks or individual patches from librarian to hardware.
Request banks or individual patches from hardware to librarian.
Total Recall: When you reopen your project, all of the data used in it, will be sent to the hardware, automatically!
The plugin is available for preorder for 34.95 EUR. The release is scheduled for the end of March/early April 2017.
More information: Mystery Islands / Waldorf qXr AudioUnit & VST Librarian Editor