Mystery Islands Music has announced the NL2xR Editor, a VST/AU editor for the Clavia Nord series.
Clavia NL2xR, our latest product to your enquiries. Faster control and automation access than ever, NL2xR takes your Nord Lead 2 / Nord Rack 2 into a whole new level in the game!

Control the same way you use your VSTi and AudioUnit plug-ins. Connect your Hardware seamlessly into your DAW. NL2xR will recall your patch settings when you open your project and the data will be sent to your Nord Lead automatically once you open your project. The only thing you need to worry, is that you power-up your synth.
NL2xR Editor features
Control Clavia Nord 1,2 & 2X synthesizer directly from your DAW.
Automate almost every parameter directly from your DAW.
No need to remember CC's for each knobs / per synthesizer. Goodbye sticky notes!
Load, Edit and Store patches into hardware memory or in your HDD personal library.
Store any Nord Lead / Rack compatible (1,2 &2X) soundset in your HDD library folder and browse it from our plugin.
Send banks or individual patches from librarian to hardware.
Request banks or individual patches from hardware to librarian.
Total Recall: When you reopen your project, all of the data used in it, will be sent to the hardware, automatically!
The NL2xR Editor for Windows and Mac is scheduled for release in June 2016. You can preorder now for 39.95 EUR (regular 49.95 EUR).
Mystery Islands has also introduced the microKxR Editor, an editor plugin for the Korg microKorg synthesizer.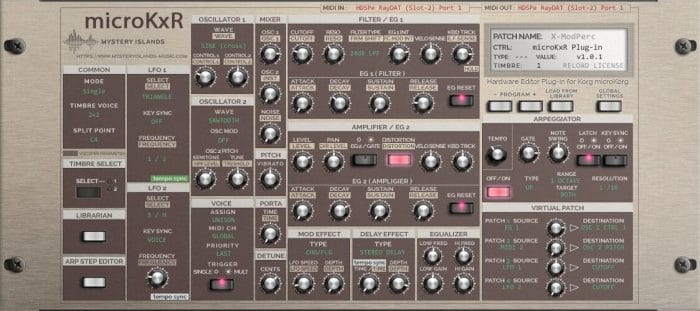 microKxR Editor is a Korg microKorg VST and AudioUnit MIDI / SysEx librarian editor plug-in for Mac OS X and Windows.
microKxR Editor features
Connect your Korg microKorg synth with MIDI interface into your DAW.
Manage single presets within our editor / librarian.
Load, edit and save your programs & save them to HDD in SysEx format.
Manage each timbre individually within single window.
Automate almost every parameter of the plug-in.
Visual link between the knob movements on hardware < -> software. You can see all being updated in the plug-in UI as you go.
When project containing our plugin is loaded into DAW, our plug-in sends the used data automatically to the synth. This means, that you can hit play, without any loading hassle with the hardware itself. This is purely automated.
The microKxR Editor is scheduled for release on April 16th, 2016. It is available for preorder for 39.95 EUR (regular 49.95 EUR).
More information: Mystery Islands Music