Mystery Islands Music has launched a beta version of its new Novation NovaX AudioUnit & VST Librarian Editor Plug-in for the Novation Nova Desktop and Nova II Keyboard hardware synthesizers.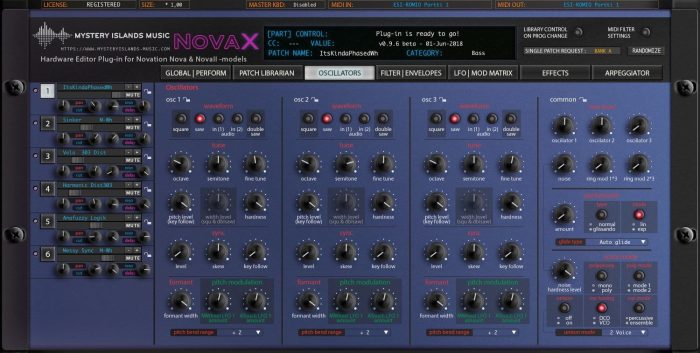 Librarian functions are somewhat limited, ie. user can not store or request banks from hardware. Only performance data (all six parts and performance info) can be received and recalled on project load.

Randomizer and Section Locks are in the code, but they are not activated since we would like to focus on gathering some feedback from you.
Arpeggiator parameters are not yet built in the User Interface.

Everything else regarding to plug-in functions should be all ready to go. Once the arp editor and writing / requesting banks is fully supported, we will put up a new version.
The NovaX plugin costs 49.95 EUR ex. VAT. It is currently on pre-order sale for only 29.95 ex. VAT.
Note that NovaX is built for the Novation Nova-series only. The editor for the Novation Supernova-series will launch in few weeks time.
More information: Mystery Islands Music