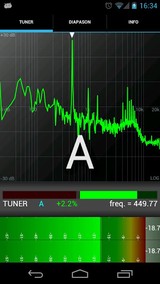 n-Track Software has announced the release of n-Track Tuner for Android devices.
Tune your guitar, bass or other instrument with n-Track Tuner. Just put your Android device next to your instrument and play each string, the tuner will automatically recognize the note you're playing and tell you whether you need to lower (green bar) or increase (red bar) the string's pitch.

The spectrum analyzer provides a visual feedback of the notes played by the instrument and shows a small arrow to highlight the harmonic whose pitch the tuner is tracking.

For those who prefer to manually tune their instrument the 'Diapason' view lets you play a reference tone, 'A' (440 hz) or any other note that you can select dragging the frequency slider.
Already available for iOS, the free Tuner app is now available on Google Play.
More information: n-Track Software / n-Track Tuner