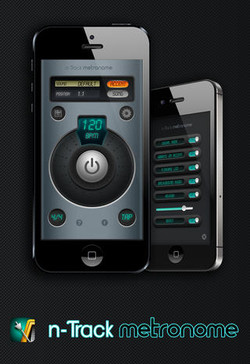 n-Track Software has announced the release of n-Track Metronome, a free app for iOS.
Never miss a beat with the new sample accurate n-Track Metronome free app for iPhone, iPad and iPod Touch.

Choose your tempo spinning the big metronome wheel or tapping with you finger.
Practice with your instrument by setting the metronome to any tempo and time signature you want to use, from classical music to rock rhythms.
n-Track Metronome features
Extreme precision: higher than 1/40000 of a second.
Turn visual mode on to make the wheel flash with the tempo, very useful when you play in noisy places.
Activate background audio to leave the metronome on while you play wi th some other instrument app.
Easily save and recall your settings with the touch of a button.
You can even easily import and export your tempo tracks to n-Track Studio for iOS, Mac and Windows via iTunes file sharing.
The app includes a quick tutorial explaining the main user interface elements.
Additional features available via in-app purchase:
Automate tempo and time signature changes, program full songs or exer cise by automaticallyincreasing the tempo as time progresses.
Enable vibration on the beat.
Enable camera flash light to follow the tempo.
Add a reverb effect to the metronome sound or boost the metronome vol ume with an integrated audio limiter effect.
More information: n-Track Software / n-Track Metronome