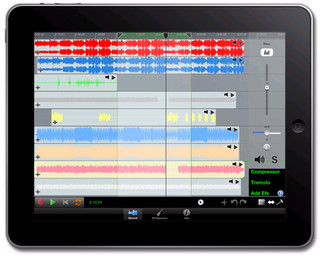 n-Track Software has released version 3.1 of its n-Track Studio app for iOS, now including MIDI support and inter-app audio.
n-Track Studio is an audio and MIDI multitrack recorder that turns your iPhone, iPad or iPod touch into a full-fledged recording studio. You can record and playback a virtually unlimited number of audio and MIDI tracks, mix them during playback and add effects.
Changes in n-Track Studio v3.1
Support for inter-app audio instruments. Add an instrument app with the + button on the toolbar.
Mixdown can now be saved in 16, 24, 32 or 64 bit audio format.
Choose microphone on multi-mic devices and set microphone polar pattern (e.g. cardioid, omnidirectional).
AudioCopy & Paste updated to SDK version 2.[v3.0]
Fixed glitches on some instruments when playing with sustain on.
Fixed crash when calling 'Open track in…' command, which now appears long tapping on an audio track.
Fixed removing an instrument may alter output setting of other MIDI tracks.
Fixed glitches changing song loop interval during playback.
Built-in metronome with programmable tempo changes [v3.0]
EQ now appears as a popup window [v3.0]
2D frequency spectrum sonogram [v3.0]
iOS 7 compatibility [v3.0]
New features available via in-app purchase:

MIDI tracks with builtin multi instrument synth.
MIDI editing in the Piano Roll window.
On screen MIDI keyboard.
Support for external MIDI keyboard and inter-app MIDI.
3D frequency spectrum.
Support for multiple audio output when using compatible USB devices.
n-Track for iOS is available to purchase for $6.99 USD. MIDI features are available as in-app purchase for $3.99 USD, 3D frequency spectrum available with the Pro-Features pack for $5.99 USD, and the 8 Effects pack costs $1.99 USD.
More information: n-Track / n-Track Studio