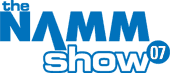 If you're into music gear/software, Anaheim (California) is the place to be right now.
NAMM 2007 has already unveiled many interesting toys in the world of music products.

So far my favorites are Native Instruments' Traktor Sratch and Audio 8 DJ, Arturia's tasty looking Origin and GForce's Virtual String Machine.
Oh and I shouldn't forget FL Studio 7 either. Pattern Clips, Edison, Love Philter etc.. Love that one!

The Korg mini-KP looks like a fun thing to play with as well. (Although CDM mentions it can't be used as a MIDI controller and you can't receive MIDI clock…)
Check out Harmony Central for an overview of all the latest press releases from NAMM 2007.
So what are most exciting products for you so far?