Auralex Acoustics has announced a yearlong celebration of its 40th Anniversary, offering special limited-edition commemorative products, exclusive value-added rebates, and other surprises for loyal Auralex dealers and end users.
Auralex began in 1977 so this year we are celebrating over 40 years of Total Sound Control® For 2017 we have decided to revamp and redesign several of our most popular ISO-Series and Portable Treatment products; MoPADs, MoPAD-XL, DeskMAX, and ProMAX.
At the Winter NAMM 2017 Show, Auralex has introduced DeskMAX v2 stand-mounted acoustical panels.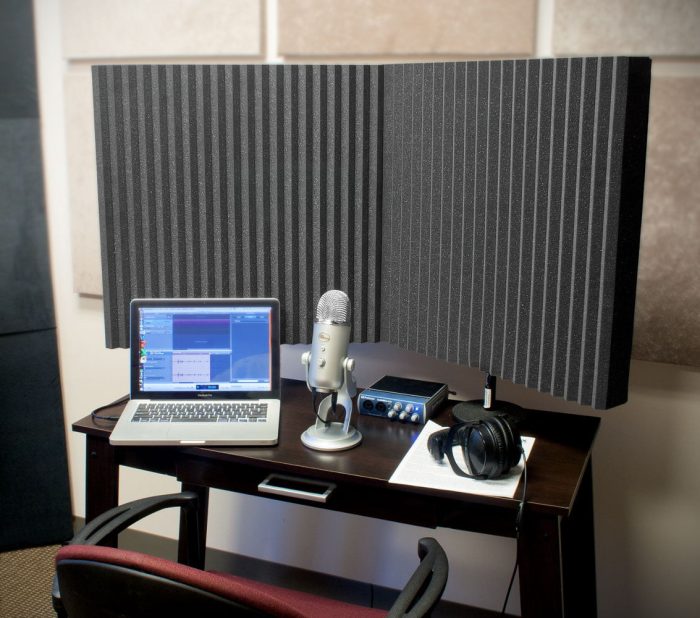 The DeskMAX v2 is designed as a portable, lightweight, variable and highly effective absorption treatment. It is designed for both permanent recording and makeshift setups (for instance, podcasting), mixing and live performance applications.

Equally appropriate in the studio, classroom, home office or on the stage, DeskMAX™ v2 can be used anywhere boundary-mounted acoustical treatments aren't feasible or desired. It is ideal for musicians and voiceover professionals working in rented spaces and can also be used as a very effective amplifier and speaker cabinet baffle.

The pair of 2'x2'x3" DeskMAX™ v2 panels are made from Auralex Studiofoam®, mount to the included desktop stands and store in a convenient travel bag that accommodates both panels and stands.
The ProMAX stand-mounted reflective rear panels are also updated to v2. The panels offer a portable, lightweight, highly effective absorption treatment solution with quick and easy setup and teardown.

The ProMAX v2 is designed for a variety of spaces and applications and can be implemented in any location where boundary-mounted acoustical treatments aren't feasible or desired.

The unit features a 24" x 48" x 3″ absorptive Studiofoam™ panel with an updated angled reflective rear surface for tonal variability when rotated or flipped. By altering the quantity, orientation and spacing of multiple ProMAX v2's, users will be able to dial in the desired amount of room ambience.

The ProMAX v2 is a flexible, expandable and affordable solution that's ideal for a wide range of users and settings, including recording and performance applications in the studio, on stage, in the classroom, in the home and more.
Furthermore, 40th Anniversary Editions of the ProKit-1 and ProKit-2 SonoSuede ProPanel Kits and MoPAD and MoPAD-XL monitor isolation pads are on display at the NAMM Show.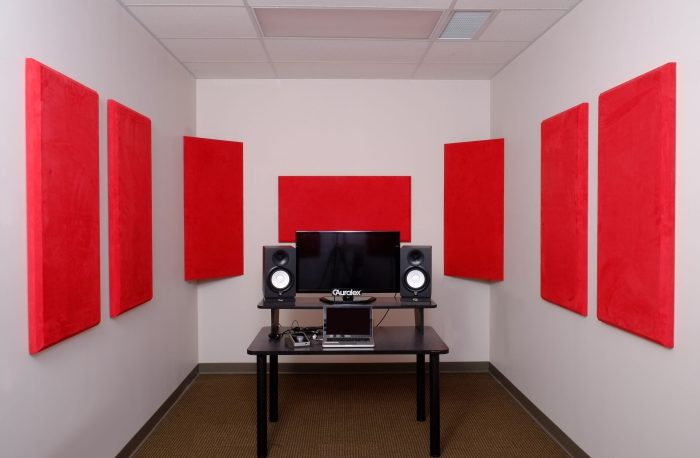 Consisting of beveled-edge 2'x4'x2" ProPanel SonoSuede fabric-wrapped Class A absorptive fiberglass panels, these cost-effective kits are highly effective at controlling critical mid- and high-band frequencies.

The SonoSuede ProKit-1 and ProKit-2 kits also include 2'x4'x2" mitered-edge ProPanel corner treatments that provide low-frequency absorption, which is critical in small and medium-sized rooms. Based on the 2" thickness of the ProPanels included in both kits, there is a greater surface area of coverage per panel over other competing offerings.

The Auralex SonoSuede ProKit-1 and ProKit-2 room treatment systems are available in two fabric choices, red or black, and include all mounting hardware. Additional Cloud and Monitor Isolation packages are also available.
Originally introduced in 2001, the MoPAD has become the industry standard monitor isolation pad in use in thousands of professional and home recording studios around the world.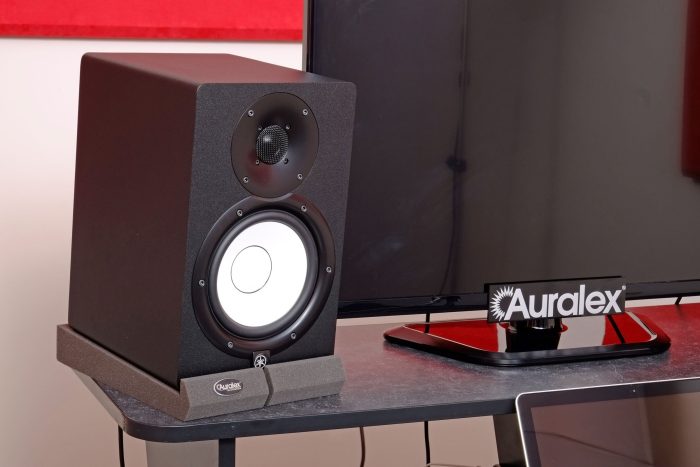 Often imitated, the Auralex MoPAD continues to be made from Auralex's proprietary Studiofoam® formula that resists crumbling and dis-coloration from UV rays and maintains shape to support virtually all sizes of bookshelf loudspeakers or recording monitors up to 100 lbs. each.

MoPAD Monitor Isolation Pads provide sonic isolation between monitors and whatever monitors are resting on, instantly improving the accuracy of the entire monitoring system. MoPADs are affordable, easy to implement and really effective at decoupling your monitors so you can experience the One True Sound™ of your monitoring equipment.

The updated design includes an angled cut into the front of the base of the MoPAD that reduces overhang on speaker stands and meter-bridges. Extraordinarily effective and really versatile, the patented design allows for five different positioning options. By using the included MoPAD Wedge Adjusters, you can adapt your loudspeakers to listening angles of -8°, -4°, 0°, +4° and +8°.
Visit Auralex at the NAMM Show, Booth #6957.
More information: Auralex Acoustics