Elixir Strings has announced a new addition to its lineup of electric guitar strings.
OPTIWEB Coating is a new, innovative lightweight coating that sounds indistinguishable from uncoated strings*, but with the long lasting tone life of Elixir Strings.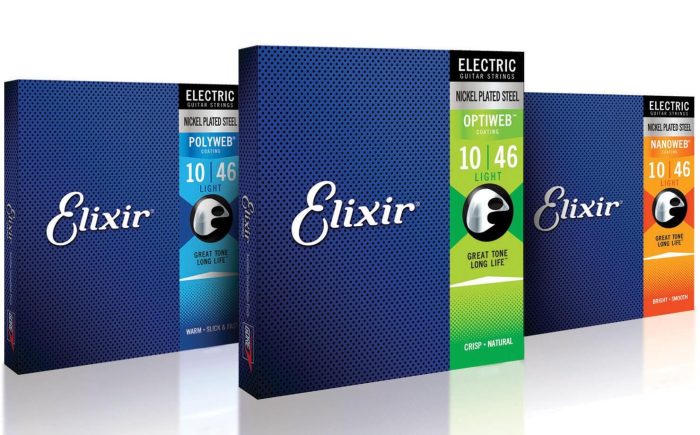 "Guitarists who choose uncoated strings for their natural feel and tone used to have to compromise on tone life," said Jason Zambotti, product specialist for W. L. Gore & Associates, parent company of Elixir Strings. "Now, with our latest advancement in electric string coating, you can have the best of both worlds – the performance of a natural string and the extended tone life of a coated one."

Uncoated strings are popular for their crisp tone, natural feel and playable grip, which come at the expense of tone life. Dirt, sweat, oils and air can quickly drain the life from a guitar string, making more frequent changes necessary, which can be both inconvenient and costly.

The key innovation behind the OPTIWEB Coating is a proprietary process that produces a lightweight coating, which not only protects the string from the elements for longer tone life, but also allows the string to vibrate with less damping – for a crisp tone with a firm, natural grip, putting you in control of bends, vibrato and sustain.

Guitarists have reported that they could not tell the difference in the sound of OPTIWEB Coated strings compared to uncoated strings during play-testing, which was confirmed by A/B sound testing in the studio: www.elixirstrings.com/experience.
OPTIWEB Coated Strings features
Crisp tone show after show, session after session.
Natural feel and grip for ultimate playability.
Longer tone life for less frequent string changes.
Elixir Electric Strings with OPTIWEB Coating are available in Super Light (9-42), Custom Light (9-46), Light (10-46), Light/Heavy (10-52), and Medium (11-49) gauge sets at authorized dealers.
More information: Elixir Strings
*Elixir Strings electric tone and feel field trials.