Qu-Bit Electronix has introduced four new Eurorack modules at the Winter NAMM 2017 Show. The Contour quad envelope generator is now available to pre-order.
Each channel has looping, CV over attack and decay, as well as unique chaining capabilities. This makes for the creation of complex modulation patterns with a minimum amount of trigger sources.

Cycle times range from 5ms all the way to 20 minutes, providing an extremely wide range. In addition to its full feature set and four channel architecture, the ergonomic interface makes it ideal for performance scenarios.
Contour features
CV over attack and decay.
Looping mode.
Linear and exponential shapes.
Unique chaining capabilities.
Wide range from 5ms to 20 minutes.
Contour is available to pre-order for $279 USD, and will ship by the end of January.
At the NAMM Show, Qu-Bit also introduced three other modules.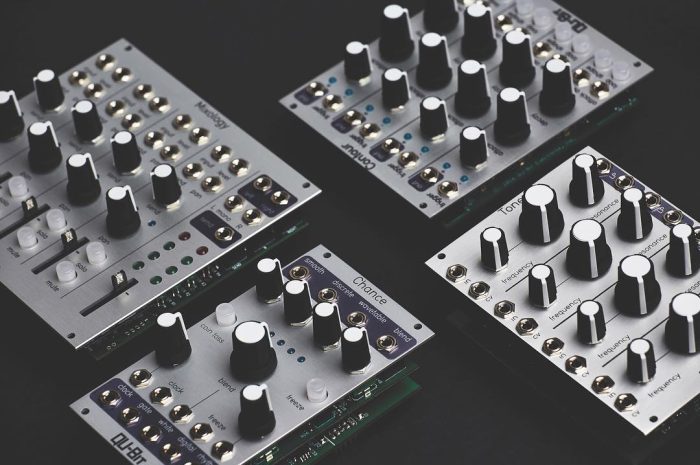 Upcoming Qu-Bit modules
Chance — Random voltage generator with 4 distinct random CV outputs. Analog white noise, and digital noise as well as musical random gates and random gate bursts. Freeze control stops everything in its tracks and blend knob provides morphable output between each voltage type.
Tone — Quad voltage controlled filter with low pass and band pass outputs. 24 db slope provides warm, buttery character. Capable of self oscillation with resonance. Volt per octave CV inputs allow each channel to double as a sine wave oscillator with accurate tracking across four octaves.
Mixology — Four channel stereo mixer. Extensive amount of CV inputs including pan position and send amount. Bipolar level CV provides access to audio ducking. Pop free mute and solo and constant power panning. Up to +6dB of gain for each channel. Stereo return channel can double as two additional mono channels, or an additional stereo channel. Performance interface with level sliders and ergonomic layout.
Mixology is expected in February, Tone in March, and Chance in April. Pricing TBA.
More information: Qu-Bit Electronix