Synthogy has introduced Ivory II Studio Grands, an all new virtual piano collection featuring two classic studio grand pianos recorded in iconic studios.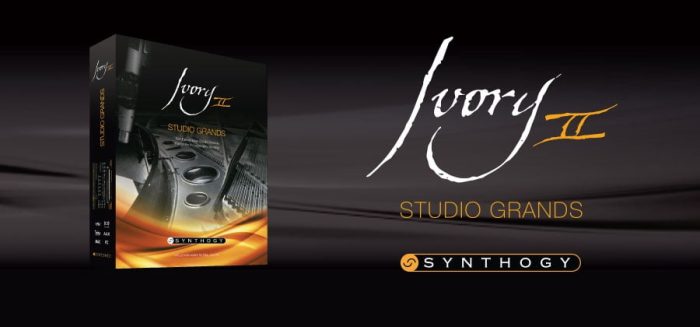 Steinway B Grand Piano Power Station New England—Waterford, Connecticut
The Steinway B is one of the most recorded pianos in history and is widely considered the ideal studio piano. Its unique balance of size and power make it an extremely versatile instrument for all styles of music. This particular instrument was hand selected and prepared with the kind cooperation of Steinway & Sons® at their factory in Astoria New York. Before recording, all piano regulation, voicing and tuning was done on-site by a Steinway concert technician before painstakingly sampled by Synthogy's expert team. The recording sessions took place in the classic tuned live room of Power Station NE, an acoustic replica of the famed Power Station New York.

Bösendorfer 225 Grand Piano Firehouse Recording Studios—Pasadena, California
This Bösendorfer 225 Grand Piano possesses a deeply resonant tone and balance in all registers and has a distinguished place in the history of recorded music. Slightly longer than most studio grands at 7′ 4″, and with four additional low keys, this instrument has appeared on numerous Grammy®-winning and Grammy-nominated recordings. The sessions were engineered by Tony Shepperd in the state-of-the-art Studio A at Firehouse Recording Studios in Pasadena, its venerated sound captured in this historic piano room.
Ivory II-Studio Grands features
Up to 24 Velocity Levels.
Multiple Levels of Soft Pedal.
Multiple Levels of Release Samples, triggered by Velocity and Duration.
Harmonic Resonance Modeling for true Sympathetic String Vibration.
Custom Soundboard Emulation DSP.
Pedal Noise Enhancements.
Native 64 Bit Support.
Timbre-shifting, Parametric EQ and Synth Layer controls for powerful sound sculpting capabilities.
Sample Interpolation Technology used for ultra-smooth velocity and note transitions.
World class digital FX including Real Ambience, Chorus and EQ.
Customizable User Controls for Timbre, Stereo Width and Perspective, Velocity Response, Mechanical Key Noise, Lid Position and more.
Tuning Tables.
Dozens of programs and effects presets.
Ivory II-Studio Grands will be the first Synthogy piano collection to ship with the new Ivory 2.5 Piano Engine. This update will support PACE's machine-based license authorization scheme as well as the traditional PACE iLok key. Additionally, the Ivory 2.5 Piano Engine includes new features, such as:
Shimmer: unique control over sustain and decay.
New Half-Pedal Controls.
Assignable MIDI Controls.
High Resolution MIDI Velocity Response.
Improved UI accessibility for sight impaired users.
The Ivory version 2.5 Piano Engine will be offered as a free update to Synthogy's other Ivory II piano collections: Ivory II-Grand Pianos, Ivory II-Italian Grand, Ivory II-Upright Pianos, and Ivory II-American Concert D.
Ivory II-Studio Grands will be available for purchase in March of 2017, priced at 299 USD.
More information: Synthogy