Avid has announced the immediate availability of Sibelius 2019, its best-selling music notation software.
Debuting at The NAMM Show 2019, Sibelius 2019 introduces powerful new capabilities that enable faster, more creative workflows while limiting time consuming tasks that detract from the creative process.
The new version includes a Review Mode that grants users limited access to scores, and instant play back when navigating a score.
Sibelius is the industry standard in music notation software and is used by award-winning artists on the world's most celebrated compositions.
Available from the product family including Sibelius | First, Sibelius and Sibelius | Ultimate, Sibelius 2019 delivers exciting features that improve review workflows and score navigation and composition—igniting creativity and collaboration for everyone from students and aspiring music creatives to professional musicians, composers and orchestrators.
New in Sibelius 2019:
Review Mode to grant limited access to scores – Available for Sibelius | Ultimate, Review Mode allows users to grant limited access to view, navigate, copy passages, and play back scores without risking accidental changes. Copyists and composers can safely review a score before orchestrating the music or teachers can check a student's notation to grade their work without making any unintended changes.
Instant play back when navigating a score – Using the Go-To-Bar and Go-To-Page functions (or the Timeline in Sibelius | Ultimate), users can navigate to any location in a score and immediately start playback. This enables users to quickly hear and compare passages to keep music creation and arranging momentum moving smoothly.
"From film scoring stages, concert halls, to classrooms, Sibelius is the industry's most used and trusted software for music notation," said Rob D'Amico, Director, Audio Solutions Marketing at Avid.

"Throughout 2018, our regular releases for Sibelius have provided new features and enhancements to accelerate composing and arranging so users can quickly and easily write and publish beautiful scores. Sibelius 2019 expands upon our vision to provide our community of award-winning composers, educators, students and enthusiasts with the tools they need to collaborate and create compelling content."
Sibelius 2019 is available now starting at $4.99 USD/month for a 1-Year Subscription.
Avid Link
Avid has also revealed a free app that connects the world's creative community, enabling creatives to collaborate and aspiring pros to get discovered.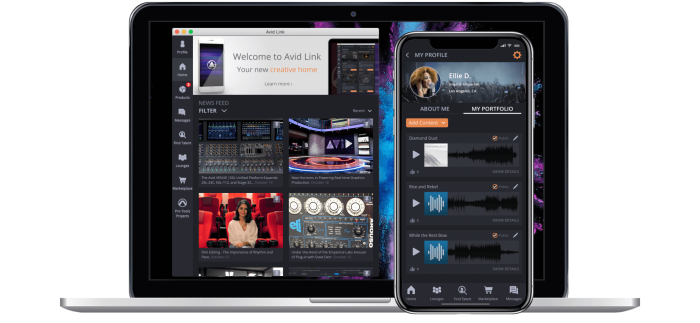 Avid Link enables anyone working in music, film and television or aspiring to—whether a novice or a pro and whether an Avid user or not—to improve their ability to promote their skills and get discovered; connect with the creative community; manage their projects, products and workflows; and expand their creative capabilities all in one place.
Avid Link allows users to connect with anyone whether they use Avid or third-party tools, and anywhere on the go via an iOS and Android mobile device or on home macOS or Windows systems.
For the millions of Avid creative tools users, Avid Link is the perfect complement to their working style since they can conveniently open the app through Pro Tools, Media Composer and Sibelius, and access their Avid Master Account information easily by just logging in.
Demonstrating the sheer star power of the Avid user community, Avid Link is the exclusive online streaming platform for the popular Main Stage events starting today at Avid's NAMM booth (#15502).
A perennial favorite of NAMM attendees, the Avid Main Stage is the place to learn from some of the biggest names in music, live sound and audio post production. This year's line-up includes iconic producers, editors and mixers best known for working with artists like Foo Fighters, Cardi B and Lady Gaga, and on films such as Venom and Deadpool.
The app is available in the Apple App Store and Google Play, or as a direct download from the Avid Link product page.
More information: Avid