Blip Interactive has launched NanoStudio 2, an update to the powerful music production environment for iPad.
NanoStudio 2 adheres to the same design principles as its predecessor, but has been completely rewritten for a new generation of mobile music makers.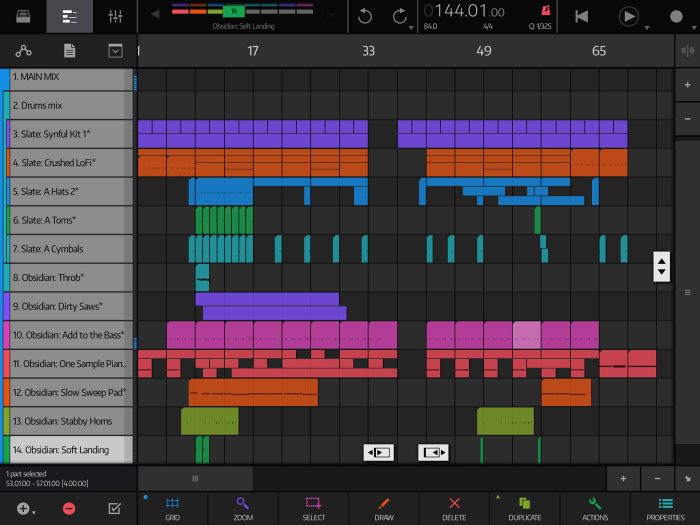 With six years of development behind it, NanoStudio 2 builds upon the same design principles that made its predecessor so popular and then takes a quantum leap with a massive range of extra features and a new audio engine delivering truly professional sound quality. Everything is optimized for CPU efficiency, so complex projects with many instruments and effects are handled with ease.

NanoStudio 2 is also a fully-featured host for Audio Unit (AUv3) instruments, audio effects and MIDI effects.
Designed for end-to-end music production, NanoStudio 2 is designed to take a user from the idea stage to a final master.
NanoStudio 2 features
Sequencer with unlimited tracks and lanes, automation and tempo/time signature tracks.
Mixer with arbitrary track grouping/nesting, unlimited insert effect chains, audio/MIDI sends and full latency compensation.
Synth with 7 different synthesis methods (including multi-samples), 18 filter types and 300+ factory patches.
Drum pad sampler with 32 pads, 500+ samples (including multi-sampled acoustic drums) and 50+ factory kits.
Built-in effects include algorithmic reverb, sidechain compressor/expander, look-ahead limiter, EQ with spectrum analysis, delay, waveshaper, exciter, chorus, flanger and phaser.
Hosts Audio Unit (AUv3) instruments and audio/MIDI effects.
Sample recorder and editor supporting audio files up to 2 hours long.
File sharing options include iOS Files app, Dropbox, AudioShare and WebDAV.
Support for Ableton Link.
Support for multi-channel external audio hardware.
NanoStudio 2 for iPad and iPad Pro is available for 32.99 EUR/£28.99 GBP/$29.99 USD. Extra sound packs are available as in-app purchase.
More information: Blip Interactive