Cody Stewart, record producer and drummer for metal/electronic band The Browning, uses an Audient iD14 USB audio interface in his simple but excellent studio setup based in Nashville, Tennessee.
While he is over the moon with it and reckons "it's definitely in a league of its own," he describes iD14 as his "favorite of all portable interfaces – on and off the road".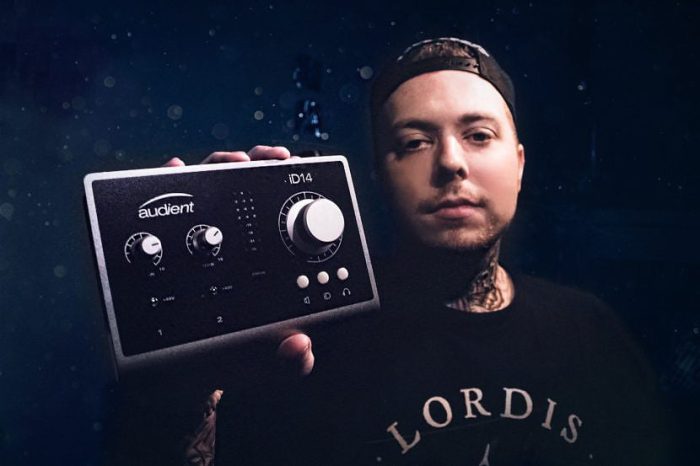 As with many musicians, Cody can be taken by surprise by inspiration and needs the ability to record in high quality at a moments notice. "Writing happens at any given time in so many different situations. The iD14 puts a great DI and amazing mic pres right in my hands whenever I want to go record an idea or a whole song. It's so quick and easy to use; it really streamlines the process instead of having to fiddle with different DI boxes or pres trying to find one that sounds up to par".

Mixing completely in the box, Cody runs Yamaha HS8's at home and AKG 702 headphones on the road, an Audient iD14, and an 2016 HP Envy with a 6th Gen Intel Core i7-6700HQ Quad Core Processor with a Nvidia GeForce GTX 950M 4gb discrete graphics card and 12GB DDR3L RAM. "The iD14 fits seamlessly in my setup. The high quality, convenience, accessibility, and user-friendly layout are second to none for the price. The iD14 being as portable as it is, gives me an excellent class A JFET DI to track top notch guitar/bass, and super clean playback I can accurately mix on whether it be on the road in the bus or at my desk."

"I mix at different volumes, constantly switching back and forth checking my mixes. The big volume control knob makes it easy for me to do that," he adds. How does it interact with the synths? "I feel like they're way clearer and sound more focused. Everything is clean and more defined to me, really". On top of that, the JFET DI and the mic pres are an instant win with how clean and clear they are. "The weighted knobs and the phantom switches make getting levels effortless. The user friendly software makes it easy to tweak all the interface settings."

Cody thinks it's vital to record in order to survive as a band. "Without your sole product, being your music, you have nothing." So it makes sense that one of the things he's most proud of is The Browning's latest album Isolation (Universal Music Group/Spinefarm Records) which he mixed and mastered himself. As a musician as well as a producer, he gets his kicks being involved in both sides of the industry. "I think the rush I get from performing live with my band, or the reaction I get after sending a client their final mixes inspires and fuels me the most."

The Browning's unique mix of metal and electronica means it's difficult to choose one song to introduce the band's style. "If you're into EDM like Hardstyle, check out Bloodlust, Gravedigger or Pure Evil. For extreme metal, try Isolation, Dragon, The Sadist or Hypernova. Fallout or Hex are more industrial rock." To check them out live, there are a couple of US tours coming up for them between March and August this year.
More information: Audient / The Browning