Native Instruments has announced Traktor Kontrol D2, the next-generation pro deck controller for Traktor Pro 2.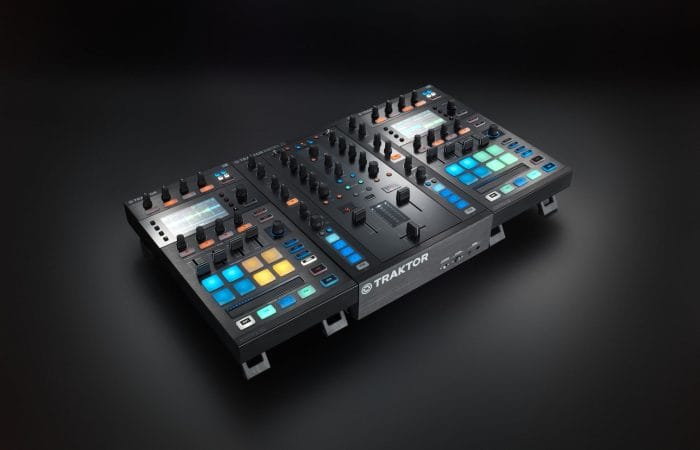 Designed for creative DJ performance that takes the DJ's focus away from the laptop, TRAKTOR KONTROL D2 offers groundbreaking touch-and-see workflow in a compact format optimized for easy set-up with club equipment. TRAKTOR KONTROL D2 will join TRAKTOR KONTROL S8 as one of the first DJ hardware controllers to support Stems* – an upcoming, open audio format that allows multi-channel mixing with individual musical parts. Robust, lightweight, and compact, the D2 is the ideal performance deck for the touring DJ.

TRAKTOR KONTROL D2 creates a multisensory DJ experience thanks to its touch-and-see technology. Tracks appear on a full-color display as vector waveforms while several key views and pop-up panels are revealed when a corresponding control is touched. The Browse Knob for example, triggers the Browse View for track selection directly from the controller. Performance Panels appear over track waveforms to view and modify BPM, key, filter, or effect values when activated by touch-sensitve knobs. And an LED-guided touch strip provides motion-sensitive pitch bending, track seeking, vinyl scratch emulation, and keeps track of phase in dark environments.

TRAKTOR KONTROL D2 naturally delivers enhanced TRAKTOR deck functions that empower pro DJs to develop their own trademark sound. Samples and loops are easily accessible for mixing with the four dedicated Deck faders when using a Remix Deck. Eight color-coded pads can trigger sounds, juggle cue points while in Hotcue Mode, or rearrange a playing track on the fly in Freeze Mode. Similar to Remix Deck usage, the D2's touch-sensitive performance knobs and faders will instantly correspond to a loaded Stem file's different 'stem' parts.

Designed to minimize bulk and setup time, TRAKTOR KONTROL D2 is highly transportable for DJs on the go. The lightweight, yet robust build features four foldable rubber-padded feet that extend to raise the unit to industry-standard height, or incline it for contoured comfort. Though one D2 alone can navigate through two TRAKTOR decks, two USB ports found on the rear panel allow a second D2 to be daisy-chained to one computer USB port for a two-unit setup. Connections are further simplified with an included power supply splitter cable that allows two units to be powered using one power supply unit.

Fueling the technology behind TRAKTOR KONTROL D2 is the included TRAKTOR PRO 2 software. An innovation in and of itself, TRAKTOR PRO is the award winning DJ software used by countless professionals. Four software decks, over 30 studio-grade effects, and powerful advanced features for creative looping and cueing have provided DJs all over the world with inspiring and customizable DJ possibilities.

TRAKTOR KONTROL D2 will be fully compatible with Stems on public release of the format in summer 2015.
Traktor Kontrol D2 will be available for $499 USD/499 EUR/£429 GBP on May 4th, 2015. Preorder is also available.
More information: Native Instruments