Native Instruments has released version 5.6 of its Kontakt software sampler.
The update comes with a new interface that allows for a larger available screen space. Instruments can now be up to 1000 pixels wide and up to 750 pixels tall.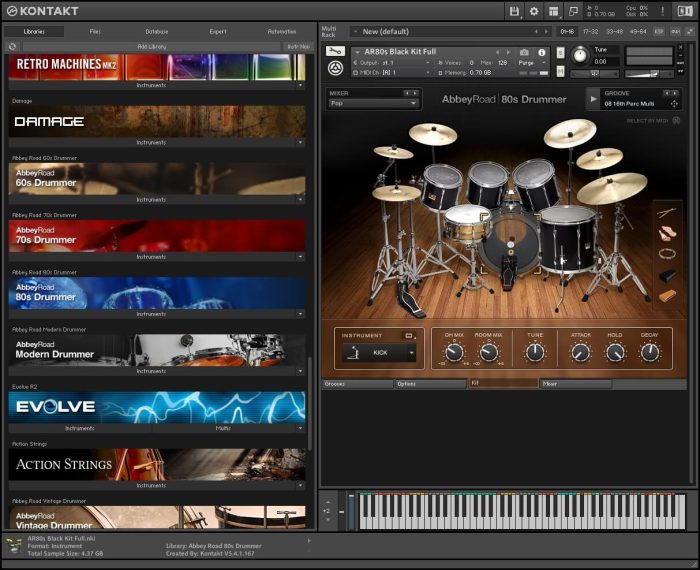 The free 5.6 update provides KONTAKT 5 with an updated user interface. The update also brings improvements to stability and a number of important bug fixes. KONTAKT instrument developers now benefit from a number of new KSP features, allowing larger available screen space for user interfaces and improved instrument building workflow.

The 5.6 update also introduces Usage Data Tracking to KONTAKT 5 and KONTAKT 5 PLAYER. This will help us ensure quality and stability by allowing us to collect important data on how the software is used. This will always be done anonymously and can be disabled at any time.
Changes in Kontakt v5.6
The user interface has received a major update, bringing it line with the latest NI designs.
Developers can now maintain precision even in use-cases involving complex math, with the introduction of a new variable type for real numbers.
Going hand in hand with the introduction of real numbers, a library of advanced math functions has been introduced. Trigonometric functions, logarithms, exponential functions, etc., will allow for more easily readable code and lower memory footprint.
Maximum width of instruments raised to 1000 pixels and maximum height to 750 pixels.
New command to set an instrument's color, including its header.
Kontakt 5.6 for Windows and Mac (VST/AU/AAX) is now available for download through Native Access and the NI Service Center.
More information: Native Instruments / Kontakt