Native Instruments has launched the Freedom of Sound sales special on REAKTOR and select REAKTOR-based instruments and effects.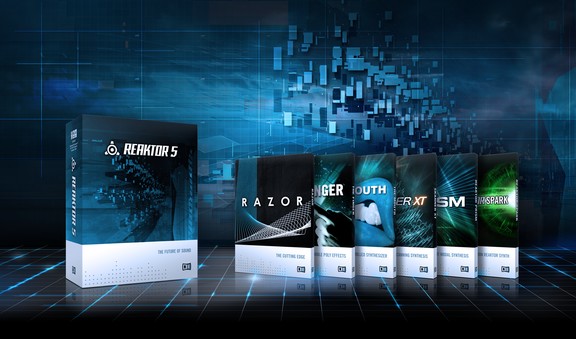 REAKTOR is a complete synthesis studio with expansive sound-generating possibilities. Its fully-modular architecture frees users to design instruments and effects according to their own needs and tastes – a sonic toolbox limited only by the imagination. Users also get access to over 70 included synthesizers, beat machines, and effects – all ready-to-use and fully customizable. Current owners of the free REAKTOR PLAYER will enjoy the increased freedom and expanded instrument selection provided by the full version of the software.

REAKTOR hosts some of Native Instruments' most innovative synthesizers and effects. Six of these are included in the FREEDOM OF SOUND offer: RAZOR is an additive synthesizer perfect for contemporary productions needing detailed sound. THE MOUTH generates melodies and harmonies out of audio source material. THE FINGER is a series of unique performance effects mapped to notes on a keyboard controller. SKANNER XT combines high-quality sampling and cutting-edge synthesis to produce a world of fascinating textures. PRISM is a polyphonic modal synthesizer capable of one-of-a-kind percussive metallic and wooden timbres. SPARK is a subtractive synthesizer designed for expressive live performance.
The Freedom of Sound sales special ends on June 20, 2013. During this period the full version of REAKTOR is available for $99 USD/99 EUR. The REAKTOR Instruments RAZOR, SKANNER, PRISM, SPARK, THE MOUTH, and THE FINGER are available for 50% off their retail price. MONARK is not included in this sales special.
More information: Native Instruments