Native Instruments today launched their annual holiday giveaway with two special gifts as a thank you to all registered users. Until December 31, both gifts are available for download from the Native Instruments website.
For producers, DRIVER is a filter distortion effect designed for subtle to drastic sound manipulation, while five new Remix Sets for TRAKTOR's Remix Decks will be released as a free bundle for Native Instruments' DJ community.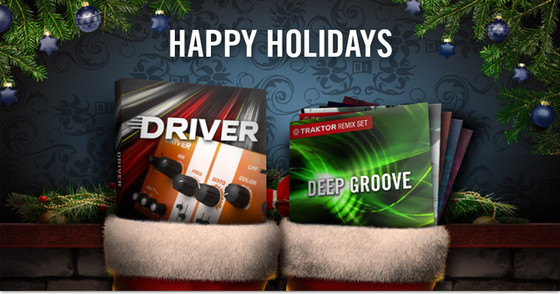 DRIVER is a creative filter distortion effect for adding dynamic motion and texture to source material, designed by the creator of MASSIVE. The filter section delivers a wide range of effects, from extremely smooth to completely saturated. DRIVER offers low pass and notch filters, plus a distortion unit and versatile modulation sources. The diversity and quality of the resulting sound are consistently inspiring, and let producers segue smoothly from a warm, high-quality filter effect to all-out sonic mayhem. An envelope follower and audio modulation allow users to animate or transform the original signal, taking the sound beyond what the filter and distortion sections do alone. DRIVER can also be triggered via sidechain for dynamic effects that move with the music and integrates seamlessly with MASCHINE.

The five TRAKTOR Remix Sets in Native Instruments' holiday giveaway provide users with diverse sounds ready for immediate use in TRAKTOR's Remix Decks. TRAKTOR Remix Sets are premium-grade loop and one-shot sample packs, providing DJs with new expressive possibilities for their sets, allowing live remixing and creative track manipulation. TRANSISTOR PUNCH and DROP SQUAD are sets of new samples based on sounds from successful MASCHINE Expansions. DEEP GROOVE provides users with a set of sounds specifically created for deep house and techno styles, while ETHNIC PERCUSSION provides loops and one shots featuring rhythms from Indian and Latin music traditions. HOLLYWOOD CRUNCH is an exclusive Remix Set created by producer Comfort Fit, featuring hand-selected sounds from his personal collection. All five TRAKTOR Remix Sets are available together as a free download.
These special offers are available until December 31 from the Native Instruments website.
More information: Native Instruments