Native Instruments has announced the release of Lucid Mission, a new MASCHINE Expansion library inspired by the high-energy aesthetic of EDM, dubstep, trap, and modern pop.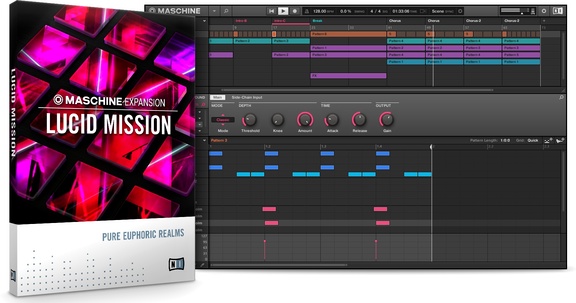 Tailored to the surging momentum of EDM genres, LUCID MISSION contains an uplifting selection of 8 full projects, 40 drum kits, 32 Drum Synth presets, and 50 MASSIVE sounds. Drums, lead synths, basses, and pads characteristic of the euphoric atmosphere of the EDM movement provide the perfect material for anthemic productions. 32 pre-programmed MASCHINE Drum Synths kits deliver a wide selection of filtered and saturated drum sounds for big room atmosphere. Plus, customized percussion loops add extra flavor, and put the finishing touch to tracks.

Exclusive to LUCID MISSION are 50 new MASSIVE presets that cover a full spectrum of vibrant sounds from crisp leads, plucks, and basses, to solid bass drums and percussion. A special kit consisting only of MASSIVE lead sounds with a multitude of variations allows on-the-fly sound tweaking and quick-access workflow. For added ambience, evocative pads and effects load directly into MASCHINE through the kits and automatically map to the hardware's display knobs for easy parameter modeling.

A compact version of LUCID MISSION is also available as an iMASCHINE Expansion, and features 2 projects and 4 kits for use on-the-go. Tracks can be exported to MASCHINE STUDIO, MASCHINE, and MASCHINE MIKRO for completion.
Lucid Mission is available for purchase for $49 USD/49 EUR/£42 GBP. The iMASCHINE Expansion is available for download in-app through the App Store for $0.99 USD/0.89 EUR/£0.69 GBP.
More information: Native Instruments / Lucid Mission