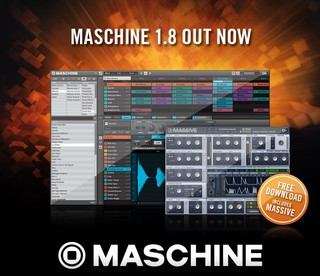 Native Instruments has announced the release of version 1.8 of its MASCHINE groove production studio software for Windows and Mac.
The free MASCHINE 1.8 update is now available. Workflow enhancements and new effects like TRANSIENT MASTER and time stretch add new flexibility to your MASCHINE projects.

And starting with MASCHINE 1.8, all MASCHINE owners also get the legendary MASSIVE for free, adding powerful synthesis to the premier groove production studio.
Changes in Maschine v1.8
Time stretch and pitch shift capability: Stretch smoothly from one BPM to another, aided by the automatic BPM detection. Or stretch your audio to a specific length – to fit one sample to the same length as another, for example. What's more, make your beats match harmonically, by tuning your samples with the pitch shift function.
Transient Master: Dynamics and mixing effect fully integrated in the MASCHINE 1.8 software. Ideal for positioning drums and percussion, it lets you mix from front to back, giving each sample exactly the right amount of space.
New Tube, Tape Saturator and Tube Saturator effects: Bring the secrets of analog warmth and natural, harmonic compression to MASCHINE, for even greater sound coloring potential.
Host transport control: Running the MASCHINE software as a plug-in in your DAW*, use the transport buttons on the MASCHINE hardware to control transport in the host software. Important: Requires the latest version of the NI Controller Editor.
New Browser sample preview mode: Easily scroll through the browser list and pre-hear samples without loading them.
Revised select screen: Now includes individual note length and velocity editing.
Auto-write pinning: Pin the Auto-Write button for improved automation recording – tweak with two hands!.
New hardware shortcuts: Select and erase events quickly and easily.
Panic button: Immediately cuts off all sound from MASCHINE.
Improved missing sample handling: Now locates files per project – point the MASCHINE software to the location for one missing file, and it automatically resolves other related missing files.
Sampler play position indicator: See the play marker in the sampler wave display – also shown in the hardware display.
Save Group with samples: Now you have the option to save Group with samples.
The MASCHINE 1.8 update is now available from the Native Instruments Service Center. The software is compatible with all versions of MASCHINE and MASCHINE MIKRO, including the new MK2 hardware. Registered MASCHINE users will get their free copy of MASSIVE by email.
More information: Native Instruments