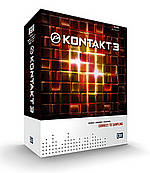 Native Instruments is offering a special crossgrade deal on Kontakt 3 for GigaStudio users.
Crossgrade details
Special Crossgrade Offer for owners of any version of GigaStudio™
Get the powerful KONTAKT 3 for just $279/249€ instead of $449/399€ for the full version!
Order the Crossgrade in the Online Shop and use this form to submit your GigaStudio™ proof of purchase.
Or simply present your GigaStudio™ proof of ownership to your local dealer to get the KONTAKT 3 Crossgrade there.
Visit Native Instruments for more information.