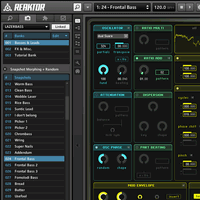 Native Instruments has announced version 5.5 of Reaktor, the latest version of its modular sound studio for Windows and Mac.
Stephan Schmitt writes on the NI forum:
Version 5.5 will be a free update, and it is based on many improvements that we have made to Reaktor recently. It also has significant new synthesis capabilities that can literally take a lifetime to explore – both conceptually as a builder, and sonically as a sound designer and musician.

It has been quite a long while since we have released the last "big" update of Reaktor, but it has always remained a very central part of the NI instrument range. Last year it was the platform for some very well-received and successful instruments: the Spiral sequencer by Lazyfish, my own Spark synthesizer and Tim Exile's "Finger". The new Reaktor version will be the basis for even more of these instrument releases from us in the future.
Changes in Reaktor 5.5 (public beta)
Additive synthesis capabilities (based on new "Sine Bank" module).
Modal synthesis capabilities (based on new "Modal Bank" module).
Instruments can now be loaded as ensembles and vice versa.
Revised one-window GUI with flexible "split" view.
Unified interface layout for standalone and plugin operation.
New full-screen view in standalone mode.
New "structure bookmarks" feature.
Improved instrument header, properties and sample map editor.
Improved audio player with browser integration, drag&drop and auto-mode.
Improved preset handling with bank list and "snapshot master" function.
Global master volume controls for audio input and output.
Improved functionality of send/receive modules.
Audio I/O channels increased to 40 in standalone mode.
Improved handling of audio I/Os and ports.
Improved auto-save in plugin mode.
Improved sample rate conversion.
New "Lazerbass" monophonic additive synthesizer by Mike Daliot.
All ensembles from Electronic Instruments I + II now included.
Additional keyboard shortcuts.
New "application reference" manual with integrated tutorials.
The Reaktor 5.5 public beta is now available for registered Reaktor users.
More information: Native Instruments / Reaktor