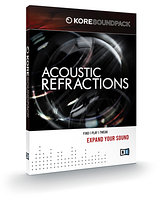 Native Instruments has released Acoustic Refractions, a new KORE SoundPack which delves into a weird and wonderful world of highly idiosyncratic sound design.
This new KORE SOUNDPACK is a fresh and exciting exploration of the world of sound. Combining curious and engaging sampled material with advanced processing in KORE, ABSYNTH, and other sound engines included in KORE and KORE PLAYER, this pack contains 100 completely original yet highly playable instruments that will resonate with modern musicians and sound designers.
Acoustic Refractions features
100 instruments: Beautifully sampled from such diverse sources as ice instruments, spinning washing machines, traffic on the Golden Gate Bridge, carpets being ripped, underground parking garages, and rain on a car windshield.
Created by Jeremiah Savage, an experienced musician and sound designer, and the founder of Echo Exist.
Processed using KONTAKT, many of the sounds have distinctly fast attacks, which then flow into atmospheric, fluid sounds via processing in ABSYNTH, KORE, and other audio engines.
Utilizing the morphing features of KORE 2 or KORE PLAYER, it is also simple to create radically distinct sound variations from the same intriguing source.
Acoustic Refractions is available as a download for $79 USD / 69 EUR.
Visit Native Instruments for more information and audio demos.