Native Instruments has released FM8 Transient Attacks and Deep Transformations, two new KORE SoundPacks.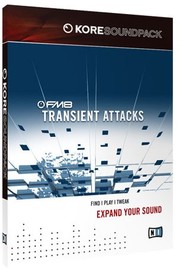 FM8 Transient Attacks contains 200 new, cutting-edge FM8 sounds for modern electronic music production, ranging from dirty electro basses to otherworldly FM grime at the touch of the Morph pad.
Utilizing the full power of the FM8 audio engine within the free KORE PLAYER and KORE 2, the sounds of FM8 TRANSIENT ATTACKS have been meticulously crafted to deliver extremely diverse yet exceptionally playable FM bass, leads, percussion, arpeggiated sounds and more. Taking advantage of the parameter-driven nature of FM synthesis, the morphing functions of FM8 and KORE have been extensively incorporated into the sound design, allowing everything from instant sound adjustment to radical transitions and giving you a total of 1,600 sound variations.
The sounds in this KORE SOUNDPACK can be also used with the FM8 full version and are not contained in the FM8 factory library.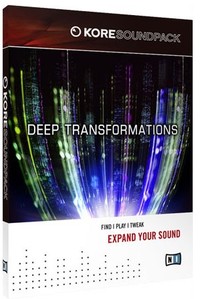 Deep Transformations is the first effects-only KORE SOUNDPACK, harnessing the power of KORE's integrated audio engines to turn KORE 2 and the free KORE PLAYER into highly creative and unconventional multi-effects units.
You'll have to look elsewhere for standard effects; this SOUNDPACK provides highly creative and morph-able effects not found in any other software or hardware unit.
Deep Transformations features
150 effects with a total of 1,200 sound variations based on intricate combinations of the GUITAR RIG, ABSYNTH, FM8 and REAKTOR sound engines, plus 30 internal KORE effects.
Delivers unique and inspiring effects that could be described as FM-sound-generators, talking ring modulators, tube pumpers, artefact creators, enveloped distortion, formant delays, wah wah cloud makers, alien radionizer, vinyl FX and so on.
FX Morphing and Innovative Control, multi-assignments for individual knobs and complex internal routing allow you to control multiple effects as one unit, letting you play your effects like an instrument.
FM8 Transient Attacks is available for download for $59 USD / €49 EUR, while Deep Transformations costs $79 USD / €69 EUR.
Visit Native Instruments for more information and audio demos.