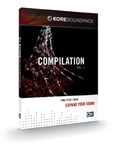 Native Instruments has released Kore SoundPack Compilation Vol. 1, a free sound library for KORE 2 and KORE PLAYER.
To make your holidays more musical, Native Instruments is happy to present KORE SOUNDPACK COMPILATION VOL. 1. This free sound collection combines 100 inspiring sounds from all across the varied KORE SOUNDPACK range, ready for use with KORE 2 and the free KORE PLAYER. Download your NI Holiday gift now!
Kore SoundPack Compilation Vol.1 features
Includes 93 instruments and 10 multi-effects sounds plus 700 Sound Variations from all across the varied KORE SOUNDPACK range, giving a good overview about the diverse sound material that is available through these libraries.

True Strike Tension – Percussive, suspenseful sounds for cinematic scores
Absynth Twilights – Extraordinary ABSYNTH pads and soundscapes
Deep Transformations – Extremely powerful multi-effects suite
Urban Arsenal – Construction kits, grooves and instruments for hip-hop
Reaktor Animated Circuits – Self-generating REAKTOR soundscapes
Massive Expansion Vol. 1 and Vol. 2 – Brand-new MASSIVE sounds
Best Of Massive – Best synth sounds taken from the MASSIVE factory library
FM8 Transient Attacks – Cutting-edge FM8 sounds for modern electronic music
Synthetic Drums – Versatile collection of charismatic synthetic drum kits
Best of Absynth – Collection of atmospheres and pads from ABSYNTH
Best of Reaktor Vol. 1 – Based on various unique REAKTOR ensembles
Kore SoundPack Compilation Vol.1 and KORE PLAYER are available free of cost (Windows and Mac).
More information: Native Instruments