Native Instruments has announced the release of Mysteria, a one-of-a-kind instrument for creating atmospheres and transitions that allow producers to harness the emotional power of the human voice when scoring for film, games, sound installations, and more.
Mysteria was created in collaboration with long-time partners, Galaxy Instruments. The team is renowned for their proven mastery of quality sampling, innovative control, and unique approach to building tools for composers, producers, and musicians.
Previous collaborations include Thrill, Noire, The Giant, Una Corda, Rise and Hit, and the Definitive Piano Collection.
Mysteria unites sources from three meticulously-recorded choirs with in-depth aleatoric sound design to form the only performance instrument that places arcane textures, haunting atmospheres, and enchanting moods from the subtle to the sublime, within a single playable interface.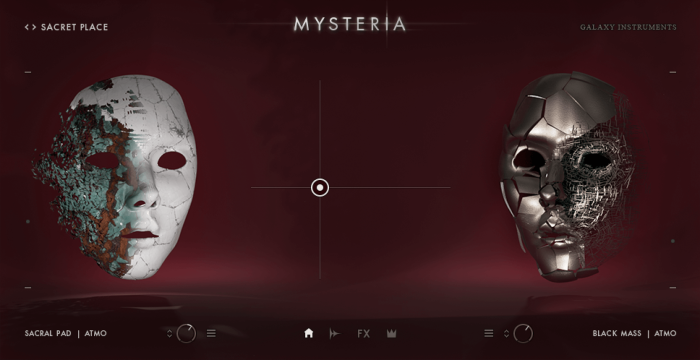 From aggressive to anxious, despairing to dreamlike, atmospheres and tonal clusters can be played, manipulated, and made to evolve in real-time, for straight-to-picture scoring and single-take scene soundtracks.
The 29 GB sound library encompasses more than 800 sound sources, recorded in Bratislava and Cologne with a large symphonic choir also split into male and female sections, a chamber choir, and an intimate New Music vocal quartet. The result is a truly versatile sound that covers everything from close whispers, to epic choruses, and everything in between.
Mysteria's X-Y pad, which follows in the footsteps of 2017's Thrill is the key to its performance. Players can morph between complex layers of sound and simultaneously control their intensity by gliding through unique dynamic sample sets and modulateable effects. This makes Mysteria as suited to drawn-out waves of emotion as it is to edge-of-your-seat bursts of energy.
Likewise inherited from Thrill is Mysteria's cluster designer. Clusters are tonally-playable layers of individual voices, which can build, shift, or glide for a comprehensive range of unique cinematic effects. Users can tune and pan up to eight individually-editable voices to create building chords and atonal clusters of notes, or shift between them on the Y axis with granular control over the results.
Mysteria for Kontakt and the free Kontakt Player is available for 299 USD/EUR, £269 GBP.
More information: Native Instruments