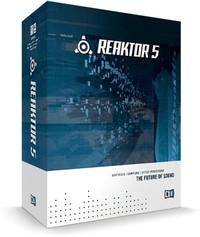 Native Instruments has updated its Reaktor modular studio software for Windows and Mac to version 5.8.
REAKTOR 5.8 opens a universe of sound. It's a deep and powerful modular studio that sets no restrictions on creativity. More than 70 unique synthesizers, sound generators, grooveboxes, sequencers and effects are at your fingertips, with 3000+ more freely available in the Online User Library. Customize existing instruments, or create your own individual sound generator from scratch thanks to the fully modular architecture. REAKTOR is a true playground for the creative mind.
Changes in Reaktor v5.8
Updated OSC Settings window.
Improved handling of OSC and MIDI, enables fast and easy mapping of MIDI & OSC controllers to Reaktor ensembles in Play Mode.
New OSC Array modules, for sending and receiving OSC messages in array format.
OSC in plug-in mode.
OSC learn feature now also implemented in Play mode.
OSC activity indicator.
Limits on the total number of OSC connections have been removed.
Maximum numbers of ports for the OSC Send and Receive modules has been increased to 40.
Improved sample management, including the ability to manage samples when in Play Mode.
Various workflow improvements in the sample map editor.
Selection of sampler module per drop down menu.
Show sampler module in structure functionality.
Mouse control fine tuning.
Bookmark behavior for Screensets.
Fixed sample rate per Ensemble.
Various other fixes and improvements.
Reaktor is available to purchase for 379 EUR.
More information: Native Instruments / Reaktor