Native Instruments has announced the release of Rising Crescent, a Maschine expansion pack that explores the sounds and rhythms of the modern orient.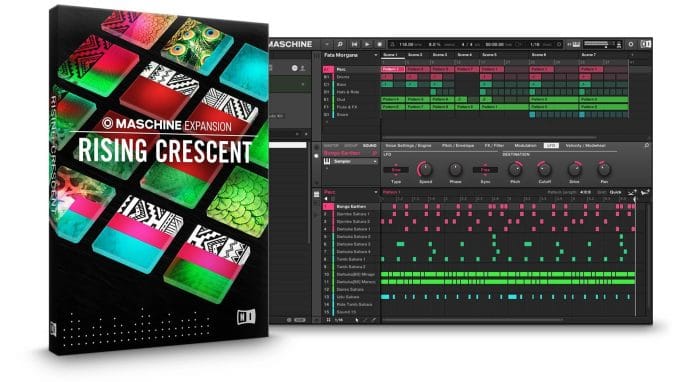 RISING CRESCENT pulls from musical cultures in and around the Mediterranean and combines them with modern bass production techniques. The expansion is aimed at producers of all genres in search of fresh, non-western flavors to add to their music.

RISING CRESCENT comprises a sample library of expertly recorded instruments from the Aegean, the Balkans, the Middle East, and India.
The sample set includes instruments such as the darbuka, daouli, hand drums, micro-percussive cymbals, rare Cretan lutes, and more.
Complementing this more traditional sound set are new presets for NI's renowned MASSIVE, REAKTOR PRISM, and MASCHINE Drum Synths, adding the deep low end and synthetic textures contemporary bass music for an exotic new hybrid flavor. RISING CRESCENT was produced by John Valasis, creator of the hardline techno-influenced GREY FORGE MASCHINE Expansion.

A compact version of RISING CRESCENT is also available as an iMASCHINE Expansion, for creating beats on the go. Tracks can be exported to MASCHINE STUDIO, MASCHINE, and MASCHINE MIKRO for completion.
Rising Crescent for Maschine 2 software is available for purchase for $49 USD/49 EUR/£44 GBP. The iMaschine expansion costs $0.99 USD/0.89 EUR/£0.79 GBP.
More information: Native Instruments / Rising Crescent