Native Instruments has released the portable Traktor Kontrol S5 all-in-one DJ system designed for fluid, hands-on control of the included flagship Traktor software.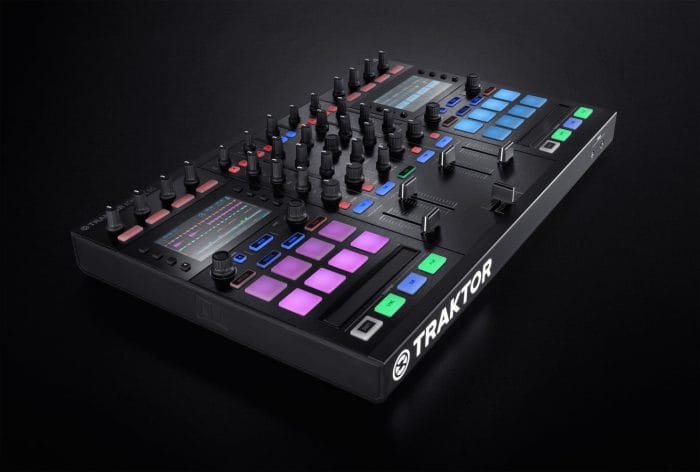 TRAKTOR KONTROL S5 provides an intuitive, modern workflow brought to life by touch-sensitive controls, full-color displays, and innovative multi-channel mixing with the new Stems* open format. Based on time-tested TRAKTOR features and advanced new technology, TRAKTOR KONTROL S5 creates a mixing experience that both inspires, and feels natural from the start. TRAKTOR KONTROL S5 is now available online and at retailers worldwide.

TRAKTOR KONTROL S5 draws its power from innovative touch-and-see TRAKTOR workflow that makes DJing an intuitive mixing experience.
Touch-sensitive knobs and two multi-purpose touch strips trigger a host of views, panels, and functions visible on the high-resolution displays – encouraging a direct, focused connection between the DJ and crowd. The latest to join the family of Stems-ready TRAKTOR hardware, TRAKTOR KONTROL S5 features customized Stem Deck support. When using Stem files with the latest version of TRAKTOR PRO 2, TRAKTOR KONTROL S5's performance pads allow control of individual stems for creative mixing.

TRAKTOR KONTROL S5 also boasts a professional on-board audio interface and robust build. The integrated 24-bit/48kHz audio interface features both XLR and RCA master outputs, one ¼ inch booth output, and an independent stand-alone RCA or ¼ inch AUX channel input for connecting a mic, MP3 player, or other line-level peripherals. And the unit's compact construction features high-grade materials and a durable build-quality made to withstand frequent gigging and touring.

Celebrating the release, a new walkthrough video demonstrating the power and simplicity of mixing with TRAKTOR KONTROL S5 is now available online.
Traktor Kontrol S5 is now available for $799 USD / 799 EU / £579 GBP.
More information: Native Instruments / Traktor Kontrol S5