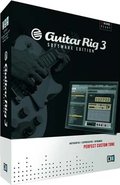 Native Instruments has released version 3.1 of Guitar Rig, the all-in-one guitar and bass solution for Windows and Mac.
Changes in Guitar Rig 3.1
Improved algorithms for reduced amp and stompbox noise.
Added virtual Rig Kontrol view showing RK2 integration.
Improved response of RK3 foot pedal.
Multiple components can now be dragged and moved within the rack simultaneously.
Metronome, tuner and loop machine can now be hidden in live view.
Added option to choose external controller switch style.
Added option regarding the handling of the pedal position when a preset is loaded.
Added help hints for controller assignments.
Updated operation manuals.
Bugfixes.
More information: Native Instruments