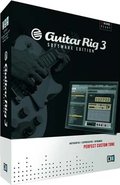 Native Instruments has released version 3.1.1 of Guitar Rig, the all-in-one guitar and bass solution for Windows and Mac.
Changes in Guitar Rig v3.1.1
Reduced CPU consumption.
Compatibility with Pro Tools 7.4.2 on Mac OS X Leopard added.
XE version: BASS PRO amp added.
XE version: Kore 2 compatibility added.
XE version: Option to hide greyed-out components added.
Japanese manual added.
Sound fixes for Citrus and High White amps.
Rig Kontrol pedal calibration fix.
Several loop machine fixes.
Various other fixes.
More information: Native Instruments