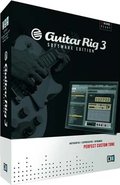 Native Instruments has released version 3.2.0 of Guitar Rig, an all-in-one guitar and bass solution.
GUITAR RIG has reached version 3.2.0 and now includes full Windows Vista 64-bit support. This free update benefits all flavors of GUITAR RIG 3 software, including XE and LE versions. 64-bit driver support for RIG KONTROL 2 and 3 as well as for the GUITAR RIG SESSION I/O interface has also been included. New features include a new MIDI filter input and the ability to run GUITAR RIG as a mono RTAS or Audio Unit plug-in as well as various minor optimizations and fixes.
Changes in Guitar Rig 3.2.0
Compatibility with Windows Vista 64.
Windows Vista 64 drivers for Rig Kontrol and Session I/O.
New MIDI input filter.
Optional mono plugin variants for AU and RTAS.
Hotplugging for audio and midi devices under Mac OS X.
Automatic audio device aggregate under Mac OS X.
Reduced memory footprint.
GUITAR RIG 3 LE: Bass Pro and Stomp Compressor enabled.
External pedal settings recall fixed.
Snapshot fix for Cabinet & Mics module.
Loopmachine undo issue fixed.
Compatibility with Digital Performer 6 PPC under Mac OS X 10.5.
Various minor fixes.
Registered users of Guitar Rig 3 can download the update free of charge.
More information: Native Instruments