Native Instruments has released a free update to its Komplete Kontrol software.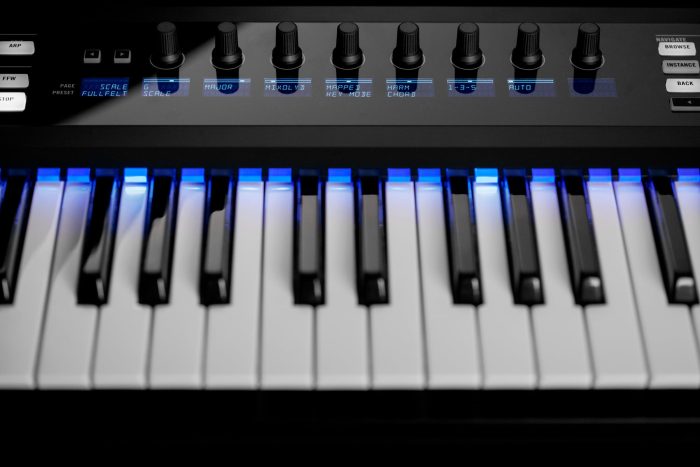 KOMPLETE KONTROL 1.8 is a free update that brings powerful upgrades to Smart Play chord and scale features, along with improved transport control for clock-based instruments.
Changes in Komplete Kontrol v1.8
New Smart Play scales — The Smart Play scale engine now includes more than 100 new scales and modes, making it easier than ever to take melodies and harmonies in new directions.
Enhanced Smart Play chord features — Users now have full control over the position of individual notes within automatically generated chords. Set to Auto, KOMPLETE KONTROL will select voicings that result in the most natural transitions between chords.
Stand-alone transport control — When running in stand-alone mode, KOMPLETE KONTROL's transport controls can now be used to start, stop, restart, or adjust the tempo of clock-based instruments such as REAKTOR Blocks.
Enhanced integration with the Maschine plugin
Pressing REC on the KOMPLETE KONTROL S-Series keyboard now arms MASCHINE itself, enabling users to record directly into the sequencer.
Fixed issue where Chord Type > Octave played an incorrect interval with certain scales.
Fixed Windows issue where KOMPLETE KONTROL's hardware service would not restart after installation under certain circumstances.
Fixed issue where automation strings would be displayed as 0-1 in hosts under certain circumstances.
Fixed macOS issue where KOMPLETE KONTROL could be started in 32-bit mode.
Fixed issue where the Arpeggiator could trigger Control Keys when loading a module via the Plug-in menu.
The Komplete Kontrol 1.8 update is free for existing users and available via Native Access.
More information: Native Instruments / Komplete Kontrol